Gladiator of Rome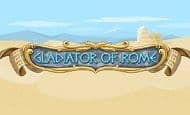 Register Here - View Promotions - UK Online Slots
Gladiator of Rome by 1 X 2 Gaming for UK Online Slots
1 X 2 Gaming's Gladiator of Rome is an Ancient Rome themed UK Online Slots with a HD format of 5 reels and 3 rows, offering a 95.94% return to player rating and a fixed pattern of 20 paylines. The bonus features offered in this online slot are a Free Spins Bonus Feature, Multipliers and Double Wins. Play Gladiator of Rome here at UKOnlineSlots.com to take advantage of our Welcome Offer which will give you 500 free spins to use on your first deposit online as a new player, with over 750 of the most popular online slots ready to play today and to complete fun tasks to unlock Trophies.
Overview
Gladiator of Rome is a brilliant yet simple Ancient Rome themed slot developed by 1x2 Gaming, who have compiled high quality visuals, strong payouts and a few bonus features to create an engaging slot that is still beginner friendly. As a medium variance slot, this game offers a fair promise of winning at this game and with various multipliers in circulation, there are some huge payouts on offer. As well as some free spins, players can access some treble payouts in this slot which can offer some very high payouts to work towards. This slot will suit anyone interested in Ancient Rome, or someone looking for a rewarding slot which is incredibly easy to play at this UK online Slot Games.
When it comes to variance, the most common category for any online slot to be in is medium. Gladiator of Rome is perfectly medium, meaning that this game offers just enough variance to give players a suitable chance of winning. The RTP rating of this online slot is 95.94%, which is very normal for a game of this style and volatility - this details that there are enough payouts given out in this slot to keep the game fair. The payline pattern of this game is also very suitable for a slot of this size, spreading 20 fixed paylines across the 5x3 reel screen. This medium variance game offers just enough chance for players to win, with the addition of special wild symbols and free spins thrown in to help you out even more.
Gladiator of Rome is a simple online slot which keeps things straightforward, which is why this game offers a small and manageable betting range which will be perfect for beginner players. The betting range used in this slot is £0.25 to £25 per spin, meaning your stake must be between these values in order to be played here. It goes without saying that this is not the most flexible betting range available at this online casino, but it certainly works for this slot as the payouts have the power to turn these stakes into suitable wins at this online slots casino.
Payouts and Symbols
Gladiator of Rome is an excellent slot to play as it makes use of multipliers, meaning any payout available in this online slot UK can be boosted even higher through the bonus additions of the game. This slot boasts multipliers of 2x and 3x, meaning you have the chance to either double or treble your payout - this is exclusive to the free spins bonus feature, which is where the best payouts of this slot are won. There is a jackpot of 1,000x your stake in this online slot, which can offer up to £25,000 from just £25 as the stake, which is a brilliant win to make. As well as this, you can treble this payout by 3x your win to offer 3,000x your stake in the bonus feature of this slot, which can lead to payouts up to £75,000 if you're extra lucky. All payouts in this slot are made in exchange for paylines of 3, 4 or 5 matching symbols. For the best possible payouts of this online slot, you will need to make paylines of 5 symbols - preferably the highest value wild symbol of the game, which in this case is a Roman Leader character symbol. This slot also makes use of multiplier payouts, meaning in order to reach the maximum potential of payouts in this game, you will need to bet with the maximum bet limit of £25 to win the maximum payout of up to £75,000!
Gladiator of Rome is a modern UK online slot which is themed on the era of Ancient Rome; the perfect choice for anyone interested in playing a historical slot. The 5 reels of this high quality game consists of Roman symbols, gladiators, chariots and swords to complete the theme. The game is pretty easy to get used to, due to the developers following the standard format of all slots to ensure even beginners can enjoy this trip back in time for huge payouts.
Bonus Rounds
Gladiator of Rome is a pretty simple UK online slot, meaning there is nothing too major or complicated hidden in the bonus rounds. Instead, 1x2 Gaming have kept it simple with just a Free Spins Bonus Round and multipliers thrown in to offer a special bonus round to enjoy, whilst offering extra high payouts for a limited time. To activate this, you need to land the two battling gladiators on reels 3 and 4. You will receive 10 free spins at first, but there is a chance to win more. There is also a special multiplier activated of either 2x for double wins, or 3x to treble every payout to offer up to £75,000 if you're extra lucky.
About the Developers
Gladiator of Rome is developed by 1x2 Gaming, as one of their strongly themed UK online slots which include excellent yet accessible visuals.
Similar Slots
For more thriving games by these developers here at UK Online Slots casino, we recommend trying Dead World Online Slot, Era of Gods for an ancient Egyptian themed slot with similar features and Faerie Nights UK Slot to try, set in a different historical era with a similar style of design.