Deadworld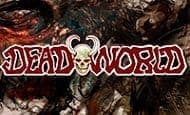 Register Here - View Promotions - UK Online Slots
Deadworld by 1 X 2 Gaming for UK Online Slots
1 X 2 Gaming's Dead World is a zombie apocalypse themed, spooky UK Online Slots with a design of 5 reels and 3 vertical rows. This medium variance online slot offers a 95.1% return to player rating and a brilliant payline pattern of 50 ways to win, which is double the usual betway pattern for a game of this size. This slot has one Bonus Game, which offers an additional spooky mini game to win extra payouts. Here at UKOnlineSlots.com, you can play Dead World and over 700 games across all devices and to complete fun tasks to unlock Trophies, with a Welcome Offer also available to give players 500 free spins whenever they place their first deposit online.
Overview
Dead World is based on a zombie apocalypse, and features lots of scary visuals and even an intense mini game to make this slot as interactive as possible. In fact, this slot resembles more a video game than your average slot due to the exciting Bonus Game and the concept of the zombie apocalypse, which makes it very different from all other online Slot Games at this casino - including the other spooky themed games. This design is not for everyone as it can be quite gloomy and spooky, although if you tend to opt for more horror themed games then this is ideal for you. The slot consists of a fair variance rating of 95.1%, which is lower than average but still very fair - this consists of medium volatility which is the usual expectation of all games at this online slots casino. There is also a nice betway pattern to this game, which consists of 50 ways to win, which are all spread across 5 reels using the Win Both Ways game engine which covers ways to win across various directions and reels, at this online slots casino. Overall, every aspect of variance in this game is looking good - the lower RTP rating is balanced out by offering double the usual number of paylines for a 5 reel slot, making paylines easier to make.
To play Dead World and fight against the zombies for cash payouts, you need to play with a stake between the range of £0.50 to £125 per spin, which should be pretty easy to do considering the range is so wide and covers the majority of commonly placed stakes at this online slots casino. The betting range cannot be changed in this game, so if you wish to bet lower than £0.50 or higher than £125, which will be unusual, then you cannot do so in this game. I will say that this minimum requirement of stake is more expensive than the usual slot, whilst also offering a higher maximum limit in this game. This design is much more suitable for players who want to make the most of larger stakes, as there is a rare chance to bet higher in this slot. The reason behind this strategy will be to win higher payouts, which is the concept of the multiplier payouts in this slot. 
Payouts and Symbols
The overall design of Dead World is fairly gloomy and dark, featuring a concept of zombie apocalypse which is complete with scary zombie symbols and an additional Bonus Game where you are up against the dead characters. This game is full of scary, dark imagery which may not be for everyone, but the visuals are very high in definition and it is clear that this is a modern release. The reel is 5 reels wide and 3 rows tall, which is completely normal for all online slots at this online casino - this means there are no complex additions to this slot which makes it easier to play. This slot consists of the usual multiplier payout system, which takes every stake placed and multiplies it by each symbol payout to create unique payouts for everyone. If you bet higher, expect higher payouts in return which is what the betting range of this slot is designed for. The maximum possible payout of this game, available only to those who play with bigger stakes, is a huge £187,500 which requires the jackpot wild payline, the activation of any multipliers in this slot and use of the maximum stake limit - which can be a challenge. The jackpot payout for a simple payline of 5 wild symbols is 500 times your stake, which can be boosted even higher through the 3x treble multipliers which are available in this slot through the bonus features.
Bonus Rounds
Dead World is not bursting with bonus features and special symbols, instead it is a rather simple slot with little to offer - there are no free spins available in this slot, just multipliers and a brilliant, yet spooky bonus game. The Bonus Round in this slot acts as an additional mini game,  which can be scary to play as it involves running away from zombies to match the horror theme of this game. To access this thrilling feature, you need to land a payline of 3, 4 or 5 of the long-haired zombie character which can land on all 5 reels of your slot. Firstly, you will win the jackpot payout of 500 times your stake before the feature begins, if you land 5 of the symbols - payouts of 90 and 200 times your stake will be given for a payline of 3 or 4 of these symbols. In this bonus round, you shoot at zombies to win cash payouts, acting as an additional mini game to this exciting slot.
About the Developers
Dead World is developed by 1 X 2 Gaming, who combine very unique (and sometimes spooky) themes with unique bonus features - many of their games break norms of bonus features and offer something completely different, as we have seen in Dead World.
Similar Slots
For more games by these developers, you should try Neon Fruit: Cityscape here at UK Online Slots casino, for a more traditional style of slot which is simpler to play.