Diamond Hill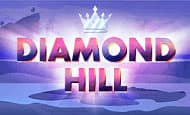 Register Here - View Promotions - UK Online Slots
Diamond Hill by Tom Horn Gaming for UK Online Slots
Tom Horn Gaming's Diamond Hill is a gemstone themed 5 reel diamond-shaped UK Online Slots with beautiful, ice-related graphics. As a medium variance slot with a fair chance of winning, this game features a nice return to player rating of 96%, also offering a generous payline pattern which includes 36 different ways to win throughout the game. This online slot also includes some bonus features, such as Wild Symbols, a Respin Bonus Feature and a Wild Multiplier Feature. Here at UKOnlineSlots.com, you can play Diamond Hill and over 700 other online slots across most devices and to complete fun tasks to unlock Trophies. Our welcome offer allows new players to gain 500 Free Spins on their first deposit online. 
Overview
Diamond Hill offers a beautiful aesthetic, set in a blue-toned arctic setting at night. Designed by Tom Horn Gaming, this slot is fairly simple and well-developed, using HTML5 and JavaScript technology to allow access across a wide range of mobile and desktop devices at this online Slot Games casino. This game is a very calming, tranquil slot which combines a simple format for beginner-friendly access, and a basic selection of bonus features to ensure a very simple and easy-to-play game design. The slot consists of 5 reels in total, spread across varying row quantities. This design is made to look like a diamond shape, with up to 5x5 reels in the middle of the game and spacing out to 5x1 reels to create a very unique design. This original style may seem slightly strange at first, but Tom Horn Gaming have done well to make this slot stand out from other online slots at this online casino. The payline pattern of this game definitely makes the unique and strange design worth it - as this game offers 36 ways to win, which is brilliant when you consider the limited reels across this game. Somehow, Tom Horn Gaming have managed to use limited symbols and far more betways which can work in your favour by making it easier to form a payline in this slot. Overall, this slot offers medium variance with a 96% Return to Player Rate - this is in the perfect range of variance which assures players that payouts come around fairly in this slot.
Diamond Hill is complete with a fairly nice betting range, although it should be mentioned that this slot is more suitable for those looking to bet higher due to the increased minimum limit and high maximum sake allowance used in this slot. The betting range of this game is £0.50 - £100 per spin, which offers plenty of freedom of choice of stake for players to take advantage of. However, you may notice that the minimum requirement to play this game, being 50p, is much higher than the usual stake limit of £0.10 to £0.25, used by most developers at this online slots casino. If you intend to stay away from these smaller stakes and prefer a bet of a higher volume, then you will enjoy this slot and all it has to offer. Although, if you are looking for a slot which you can play using as little bet as possible, then you should look elsewhere. 
Payouts and Symbols
Diamond Hill is a very well designed slot, and perfect for anyone looking for some calming visuals and something slightly different in terms of format. The reel of this game, fitting to the name of the slot, is shaped like a diamond - the edges of the reel include just 1 row, ascending towards the middle for up to 5 rows. At the largest point of this game you have a 5x5 reel design, although this is balanced out with the smaller 5x1 reels of the game - it is safe to say this offers something very different to the usual square reel development. The visuals of this slot are all themed to diamonds and gemstones, but the background surrounding the reel offers an arctic night-time setting which is very high in quality and looks beautiful. There is a glowing aesthetic to the reel, and the darkened tones allow the bright gemstone symbols to stand out which makes the game easier to play. The symbols of this game include a range of coloured diamonds including pink, orange, green and blue - the colour of the symbol will determine the payout value. The highest paying symbol is the orange diamond, offering up to 200x your stake and a maximum potential win of up to £20,000 from a £100 per spin stake. There are also special multipliers in this game, in the Wild Multiplier Feature, which can multiply these payouts by up to 9x your win for much higher returns! 
Bonus Rounds
In Diamond Hill, if you want to hit the higher jackpot prizes which go above the 200x your stake jackpot, then we recommend accessing the bonus features of this slot. The Wild Multiplier Feature is a brilliant feature of this game, known for allowing much higher payouts up to 9x the usual values available in the main game - this can offer new, higher payouts up to 1,800x your stake if you manage to hit the maximum multiplier of this slot! Another feature used in this slot is the Respin Bonus Round, which will lock wild symbols into position for re-spins of your reel, which can help you out in hitting that 200x your stake jackpot of this slot. The bonus features of this game are pretty simple, reflecting the simple style of this slot - if you are looking for a game which is nice to look at and not too complex with bonus features, this is perfect for you. 
About the Developers
Diamond Hill is developed by Tom Horn Gaming, who always impress with their well-developed visuals and higher jackpot payouts.
Similar Slots
For similar games by Tom Horn Gaming to try, we recommend Blackbeard's Quest Online Slot, Kongo's Bongo and Don Juan's Peppers UK Slot for something more upbeat, available to play here at UK Online Slots casino.