Don Juans Peppers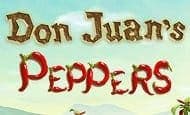 Register Here - View Promotions - UK Online Slots
Don Juans Peppers by Tom Horn Gaming for UK Online Slots
Tom Horn Gaming's Don Juan's Peppers is a mexican food themed UK Online Slots with 5 vibrant reels, complete with medium variance and a Return to Player Rating of 96% at this online slots casino. This exciting game consists of a very high number of betways for a game of this size, giving you 40 ways to win and a Win Both Ways game design. In this mexican slot, you can access bonus features such as Wild Symbols, Stacked Wilds and a special Free Spins Bonus Round. You can play Don Juan's Peppers here at UKOnlineSlots.com, or you can choose one of over 700 online slots and to complete fun tasks to unlock Trophies. As a new player, you can take advantage of our welcome offer to receive 500 Free Spins to use on your first deposit online. 
Overview
Don Juan's Peppers is a very fun game with a theme of Mexican food and a fictional character named Don Juan, who you can see in the reel as a symbol and surrounding the reel through animated visuals which complete the bonus features of this game and make it a very modern slot. This colourful slot consists of 5 reels and 3 rows, and is incredibly easy to play even if you are just starting out as a beginner slot player at this online casino. If you are a fan of light-hearted Slot Games themes which come with fictional characters and interactive visuals, this game is great for you as the theme of this game is very cheerful and comes with lots of engaging elements. One very appealing aspect of this game is the number of ways to win which are spread across a small design of five reels. Usually for a slot of this size you will have around 20 to 25 ways to win, however this game plus double this and gives you 40 ways to win across this small sized game. This is beneficial to you as these are the ways in which you need symbols to land for payouts and bonus features to be rewarded – the more ways you can do this, the better. The RTP rating of this slot is 96%, which is the usual expectation for a game of this style which determines a fair handout of winnings by every bet made in this game. 
Don Juan's Peppers has a smaller betting range of £0.50 to £50 per spin. This betting range does give you some free reign when choosing your own bed, however there is a smaller maximum limit in this game. This game does offer a higher requirement for minimum that, which may defer those players who are looking for as cheap of a bet as possible, as there are other online slots at this casino that offer smaller minimum stake requirements. . As well as this, there are also other games at this casino which offer a much higher maximum bet limit – these are more likely to appeal more to players who want to better higher than this fairly restricting maximum limit of this game. Overall, this betting range design does accommodate for the most common pets used by players, although it is not the most inclusive of all other betting strategies which some players may use. 
Payouts and Symbols
Don Juan's Peppers is a very upbeat and cheerful Mexican themed slot which offers HD visuals developed by Tom Horn Gaming, Who are actually known for their unique themes and graphics. This game is certainly not the most complex to play, due to the simple five reel game design, which is complete with sufficient spacing between the symbols to make the betways as clear and noticeable as possible. To succeed in this game, the concept is rather simple – you need to spin the reel and hope for three or five matching symbols to land adjacent to one another. There are 40 ways in which these can land, to make this a little easier for you. Each symbol has its own unique value of multiplier, which will offer a payout depending on the bet you have played with. In the main game of this slot you have fairly basic payouts such as 10 to 25 times your stake, which can generate fairly high payouts depending on the stake you have played with. You can win a much higher payout in this game such as 200 times your bet, if you make winning paylines of wild symbols. Luckily for you, these special wild symbols come in Sticky and expanding form, designed by the developers to make wild paylines easier to make in this game. The maximum payout of this game is up to £10,000, which is a brilliant return to make by any standards of slot at this online casino. 
Bonus Rounds
Don Juan's Peppers comes with all of the usual bonus symbols and features including free spins and special wild symbols throughout the game The main feature of this lot is the free spins bonus round, activated through the scatter symbols for paylines of 3, 4 or 5. Using the special symbols, you can win up to 25 free spins in one go – that is not all, as you can reactivate the feature to win more and more free spins as long as the scatter symbols keep coming. There are special modifiers in this bonus features such as multipliers for trebled payouts, as well as Sticky and locked wilds to encourage winning the jackpot in this bonus feature.
About the Developers
Don Juan's Peppers is developed by Tom Horn Gaming - High quality developers known for their bizarre yet lovable themes used across all of their original online slots.
Similar Slots
If you enjoy this online slot for its consistent Mexican theme, engaging visuals and rewarding bonus rounds then we recommend trying more games by these developers such as Blackbeard's Quest Online Slot, Kongo's Bongo and Book Of Spells UK Slot also available here at UK Online Slots casino across all mobile, tablet and desktop devices.