Blackbeard's Quest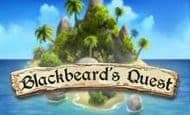 Register Here - View Promotions - UK Online Slots
Blackbeard's Quest by Tom Horn Gaming for UK Online Slots
Blackbeard's Quest is a pirate themed UK online slots with high variance from a strong Return to Player Rating of 98.2% at this online casino. The reel is 5x3 reels in size with a fixed payline pattern of 9 ways to win in total. The bonus features of this slot include wild modifiers and a Free Spins Bonus Feature, all with a nautical pirate theme included. Play Blackbeard's Quest here at UKOnlineSlots.com, or choose from over 700 UK Online Slots.
Overview
Blackbeard's Quest is another high quality online slot UK developed by Tom Horn Gaming, developers who always offer a consistent theme throughout their games to make them more interactive and engaging. This slot is overall fairly simple which offers limited bonus features and a basic design, to ensure no player level or experience is excluded from enjoying this game - everything is designed as you would expect, with a few extra surprises thrown in to make this slot competitive against the huge collection of pirate themed slots which are available online. The one main feature of this game which makes it really stand out from the rest has to be the variance - this slot is a high variance slot which offers a more than fair chance of winning a payout.
The impressive RTP rate is set to 98.2%, which soars much higher than the average volatility offered at this online slots casino. This variance rating makes this slot very appealing as it offers the implication of an easy payout, especially in comparison to other slots with a lower variance. The payline pattern offered in this game is less overwhelming as it offers just 9 ways to win, but we cannot complain about this when we consider the great volatility of this slot. Overall, this slot is hitting high marks in all things variance so do not let the limited payline pattern fool you, winning at this slot certainly is not too difficult and will come around more often than other games of lower variance.
Before we can even think about playing a game, we need to consider the betting range to see whether or not we can place our intended stake in the game - all slots have different betting ranges available. Blackbeard's Quest offers the usual, standard betting range or £0.20 to £100 per spin. This is the most commonly used betting range for a reason, as it includes essentially any betting style which is likely to be used by players at this online slots casino. With plenty of free room to use, players are more likely to be able to use their usual betting style which makes them more likely to play a slot. As well as this, with a higher maximum limit available, this slot offers the chance for players to bet with higher stakes to open up doors for much higher payouts - this is a common strategy for many players as the multiplier payout system used by most online slots allows for higher bets to bring in some impressively high payouts.
Payouts and Symbols
Blackbeard's Quest offers an array of pirate themed symbols to fill the 5x3 reel, offering plenty of colour and character to make the game extra interactive to play. The symbols across this nautical reel include pirates, treasure chests and uniquely designed card royals A to J for the lower value wins. Naturally, the highest value symbol you need to keep an eye on is Blackbeard the pirate himself - you are sure to notice this symbol from all other symbols on your reel, as it is designed to stand out. This special symbol can offer an impressive payout of up to 5,000x your stake. This volume of payout can create huge wins of up to £500,000 for players who have used the higher bet strategy of this game. This is a hugely impressive win to be gained from a stake as low as £100 per spin, which is definitely even more appealing when you consider the high variance of this slot which makes payouts such as this more within reach for players. Of course, every payout in this game will depend on your stake placed and how many symbols form the payline. For maximum wins, you must take advantage of the maximum stake limits of this slot and hope for a payline of 5 high value symbols, which are all of the ingredients for payouts up to £500,000 at this online slots casino.
Bonus Rounds
Blackbeard's Quest is a fairly simple slot, known best for its impressively high variance and strong payouts which are available. Tom Horn Gaming have not included many bonus rounds and features in this slot, purely to maintain a simple design which isn't too complex to play. That being said, there are still all of the usually online bonus rounds which players know and love. This slot offers a Free Spins Bonus Round to play, which is activated through the scatter symbols, with a payline of 3 or more of these symbols automatically starting the feature. You will receive 5 free spins at first, to use in order to try your luck at the jackpot win or 5,000x your stake for a payline of Blackbeard symbols. You can receive more free spins if you are lucky, simply by landing more scatter symbols across a payline during the feature to receive another prize of 5 free spins to use. This slot also offers wild symbols and modifiers in circulation, which offer increased payouts and the chance to swap our lower value symbols for higher paying symbols for bigger wins.
About the Developers
Blackbeard's Quest is developed by the respected slot developers Tom Horn Gaming.
Similar Slots
Tom Horn Gaming who have also created hugely popular UK online slots such as Kongo Bongo, another bonus-filled and high quality online slot available here at UK Online Slots casino.