Crystal Rift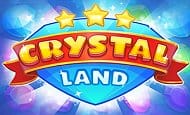 Register Here - View Promotions - UK Online Slots
Crystal Rift by Rabcat for UK Online Slots
Rabcat's Crystal Rift is a medium variance slot with a fairly average 96% return to player rate, and a fixed payline pattern which gives you 25 ways to win in total across the 5 reel, 3 row design. This crystal themed UK Online Slots includes extra bonus features such as a Wild Grids Feature, Cascading Reels Feature and a Bonus Falls Feature. Play Crystal Rifts here at UKOnlineSlots.com, or choose from over 750 other games online, and we will give new players an extra 500 Free Spins to play with when they place their first deposit online, as part of our welcome offer and to complete fun tasks to unlock Trophies.
Overview
If you are looking for something fairly simple, but still very unique and advanced, then Crystal Rift will not disappoint you. Complete with 5 reels and 3 rows, this slot does not include your usual bonus features and offers something completely new - if you are bored of the same, usual format and bonus features of all slots at this online casino, then you will find what you are looking for in this game. The slot consists of a fair variance, with bonus features also added in to increase your chances of winning even more. The visuals and theme of this game are pretty simple, but make for an enjoyable game to play. Like many slots by Rabcat, this game is very inclusive of all player styles, abilities and preferences with an accessible slot which can be played on most mobile and desktop devices at this online Slot Games casino.
Crystal Rift offers a fair, medium variance rating which gives players a decent chance of winning - or accessing the exciting features of this game. This slot offers some unique perks which can also assist in your likelihood of winning, shown through the bonus symbols and reel design of the game. Firstly, the RTP rating of this slot is fair at around 96% - this is the usual expectation which we have for all games at this online slots casino, to have confidence for a fair chance of winning. The payline pattern of this game is also suitable for a 5 reel slot, offering 25 ways to win which includes left, right and diagonal directions of betways for maximum chance of winning. As well as a generous payline pattern and fair RTP rating, this game boasts a Cascading Reels design which removes symbols after every winning payline. With the winning symbols removed, you then create space for new symbols to fall into their places, which causes a movement to your reel which can help in making consecutive winning streaks for extra payouts.
Crystal Rift can be played with a fair number of strategies, as the betting range is appropriately inclusive of a range of player styles. The minimum required stake of this game is the lower £0.10 per spin, which makes this game one of the cheaper slots available to play at this online casino - this will benefit anyone who wants to play with smaller bets and keep their stakes as low as possible, as it can be rare to place stakes this low in any slot at this online casino. The maximum betting limit for players of this game is £50 per spin, which applies to every stake placed per spin - this means you can technically bet higher when spreading stake out across multiple spins. This betting range is not the widest, but does offer a sufficient amount of freedom for players to choose their own bets.
Payouts and Symbols
Crystal Rift has a very simple concept, of spinning the Cascading Reel to reveal paylines of 3-5 matching symbols, which is how money and bonus rewards are won in this slot. For the highest possible payouts of this game, you need to bet with the maximum limit of £50 per spin and manage to land 5 wild symbols across any of the paylines, as this is exactly how the maximum payout of this slot is made. You can win up to £50,000 if you do this, which is a huge return to receive from just £50 at this online slots casino - of course, this payout is not found often, but is still achievable. The jackpot win of this slot is 1,000x your stake, which requires the wild symbols to form a payline. The bonus features of this game are designed to increase the chances of a wild payline, with wild features available to encourage this jackpot win. 
Crystal Rift has a very futuristic design to it, set on a crystal reel of 5x3 reels and rows for a simplified game design. The symbols of this slot are made up of various coloured rocks, with bonus symbols being shown as crystals and valuable gems. Being knowledgeable about all things geology will help you in playing this game, as each symbol ascends in value depending on the value of the stone. Visually, this slot is very strong and offers a nice screen to look at as you play, featuring audio and animation as a modern release by Rabcat.
Bonus Rounds
Crystal Rift has multiple bonus features available, which boost your chances of winning overall and increase the likelihood of a jackpot wild win. The Wild Grids Feature is activated after 3 consecutive wins are made - which can be made more possible to achieve through the cascading reel design of this slot. The purpose of the Wild Grids Feature is to add wild symbols to your reel, and this feature has 4 different levels to work through varying from 'basic' to 'insane'. There is also a special Bonus Falls Feature, which is integrated into the main game to offer consecutive wins and the chance to win up to 1,000x your stake.
About the Developers
Crystal Rift is developed by Rabcat, who have created similar, hit UK online slots.
Similar Slots
Similar slots such as Treasure Heroes Online Slot and North Storm UK Slot, a beautifully-designed game with extra features available to play here at UK Online Slots casino.