Treasure Heroes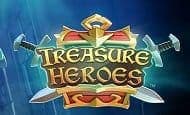 Register Here - View Promotions - UK Online Slots
Treasure Heroes by Rabcat for UK Online Slots
Rabcat's Treasure Heroes is a mystical UK Online Slots with 5 reels and 3 rows full of magical characters and themed symbols. The game is considered a medium variance slot with a 96.12% return to player rating and the use of the very unique Cluster payline pattern for easier winning. The bonus features of this slot include w Treasure Chamber Free Spins Feature, a Moving Wall Feature, and wild modifiers too. You can play Treasure Heroes here at UKOnlineSlots.com, or choose from over 700 other games. 
Overview
Treasure Heroes is the perfect slot for beginner players, or anyone interested in the world of magic and mystery. This slot is a fantasy themed game, developed by Rabcat with some unique features included. The slot is considered a medium variance game, which includes a promising return to player rating of 96.12% - this is nicely above the average variance rating for a slot of this style, making it appealing in terms of chances of winning. The game also boasts use of the rarely used Cluster payline system - which is fairly new and modern, therefore not many slots are available which use this feature. This payline pattern means that you need to land clusters of symbols as opposed to fixed paylines - this includes 5 or more symbols in and adjacent cluster, landing across any reel or row. As long as 5 matching symbols are nearby and in an adjoining cluster, you will win a payout. This feature can be easier to make a winning payout, although this complex design is not for everyone. It is a matter of preference, although this cluster payline pattern can be a nice change from the usual style of slot at this online casino. 
Treasure Heroes includes a very small betting range, offering potentially the smallest range available for players across all games at this online slots casino. The range in this game is £0.25 to £10, which features a basic minimum stake requirement but also includes a very low and minimal stake limit. This range is very small in size and does not give much freedom of choice to players of this game, which can defer some players - especially if their betting strategy is usually above this stake limit. With a smaller betting range, we do expect much higher payouts in the slot as you will need a high volume multiplier to create a sizeable win from a bet as small as £10 in this game. If these developers do it right and make it possible for smaller bets to win big money, this may be a strength to the game. 
Payouts and Symbols
In Treasure Heroes, we have expectations of higher multiplier payouts due to the smaller betting limit, as this is commonly found in games with a smaller stake limit. This slot does deliver on this expectation, with a jackpot of 1,000x your stake which can create a huge win of £10,000 from a bet as low as £10. With this in mind, this slot has the ability to turn small stakes into big money which is a rare attraction across any online slot, and is certainly likely to attract any player at this online slots casino. The game offers other payouts such as 0.75x your stake for the magician, which is very low, especially when players are required to play with a small stake. Overall, this game offers a chance to win big money - although this is just one chance in the jackpot payout as all other payouts of the game are fairly low. If you are lucky enough to hit the jackpot in this game whilst playing with the maximum stake, you are in for a great win. However, all other symbol payouts in this slot are pretty underwhelming. Luckily, the bonus features of this game are designed to make this jackpot more likely to be won, which is helpful.
Bonus Rounds
Treasure Heroes uses two main bonus features, both of which modify your reel and offer extra chances to win a higher value payout - which is all focused on the only profitable payout of the entire game which is the 1,000x your stake win from the wild symbols of this game. The Moving Walls Feature is one of two of the main bonus rounds of this game, which will turn on after every winning payline is made in this game. This feature will move reels 1, 3 and 5 down and shift to create a whole new reel. This can calculate new payouts, of potentially higher value and makes the jackpot payout more likely to be won. There is also a Treasure Chamber Free Spins Feature, which is activated through just 2 scatter symbols which is a much easier way to access this feature than most slots offer. This feature will give you 10 free spins to use when the bonus round begins, which you will use right away - this feature is designed to give you an extra chance at winning something from your same stake, and giving 10 free spins can be pretty beneficial in making this game. The bonus features of this game are fairly unique, especially the Moving Walls feature. Both of the bonus rounds stick to the mystical theme, offering something different to other games. If you are looking for a slot which includes a strong jackpot to work towards and special added bonus features to help you reach it, this game is for you. 
About the Developers
Treasure Heroes is developed by Rabcat, who have also created huge online slots such as Sherlock of Love which includes a theme of mystery, also featuring the same consistent graphics and high quality bonus features in this game, with slightly different betting and payline details.
Similar Slots
This slot is available to play here at UK Online Slots casino across any mobile, desktop or tablet device online.