Gold Train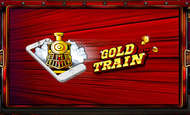 Register Here - View Promotions - UK Online Slots
Gold Train by Pragmatic Play for UK Online Slots
Pragmatic Play's Gold Train is a railway inspired UK Online Slots with just 3 reels, featuring a simple fixed payline pattern of 3 ways to win and a return to player rating of 97.1% to offer a high variance. The exciting bonus features in this online slot include a Progressive Bonus Feature, Upgrading Symbols and Scatter Symbols. Play Gold Train here at UKOnlineSlots.com to browse over 700 of the latest online slots and to complete fun tasks to unlock Trophies, and we will give you 500 free spins to use across all games when you place your first deposit online, as a Welcome Offer. 
Overview
Gold Train is another very simplified online slot UK developed by Pragmatic Play, who tend to strip back their slots to make them as beginner friendly as possible. This game is much smaller than your more modern Slot Games, being just 3 reels and 3 rows in size - this makes the game much more manageable and easier to play. As far as online slots go, this game is very basic in all aspects from payouts to bonus features. The only real bonus features offered in this game are upgrading symbols, scatter symbols and the main feature which is a Progressive Bonus Feature. There are some decent payouts available in this slot, and there is a highly volatile RTP rating which could mean an easy win. This online slot is produced together with a railway theme, making it ideal for anyone interested in trains and railways, albeit with a simple design to appeal most ro beginner players.
Gold Train is considered a high variance online slot, due to the higher RTP rating of 97.1% - this means that this game hands out much more payouts than your usual game of medium variance, which is certainly appealing to any player at this online slots casino. The RTP rating is welcomed, as the payline pattern of this online slot is not the best. There are just 3 paylines available to work with, which sounds much lower when compared to your average slot, at this online slots casino. However, this is justified by a smaller reel - as there are less symbols on the screen of this game, less paylines are needed which makes this betway pattern suitable. As well, there are certain upgrading and wild symbols which can increase this variance even more to make up for the lack of paylines used.
Gold Train is played using very small bets, which reinforces the beginner friendly design of this slot - smaller bets are more suitable for those looking for some risk-free online slot fun, without needing to place higher bets. The range used in this UK online slot is £0.03 to £15 per spin, which is interesting as it offers players the chance to play this game with an extra low stake - this is far below the usual access point used in other slots by other developers, which will appeal to some people. The maximum limit of this slot is also fair, being £15 per spin - although this does not leave much room for placing higher bets, using this stake, you can still win some fairly high payouts in this game. 
Payouts and Symbols
Gold Train is complete with a simple payline system - as there are only 3 reels, you need at least one of the symbols on every reel to be the same. This concept makes the online slot very easy to play and manage, whilst still offering a higher variance and higher likelihood for payouts to happen. This online slot offers a jackpot of 500x your stake, which is available through the Gold Train game logo symbols, which are the wilds of this railway themed slot. Other very high value symbols of this game include the triple 7's, which offers 30x your stake; the conductor symbol which offers 24x your stake and the bell which awards up to 15x your stake. These payouts are more on the basic side at this online slots casino, and in order to win any payout of substance, you will need to bet with a higher stake than the minimum limit of this game. Overall, there are some opportunities to win fairly high in this high variance slot, although it certainly is not the best-paying slot at this online casino.
Gold Train takes players onto the railway in this train themed online slot UK, complete with simple visuals designed by Pragmatic Play. Being just 3x3 reels in size, this online slot is unique in its smaller size, making it much easier and accessible to play by any player - although, this does come with limitations. The symbols across this railway slot include all things railway themed from conductors to train bells, with the inclusion of traditional symbols such as lucky seven's and card royals to offer the perfect blend of classical and modern online slots.
Bonus Rounds
Gold Train is not full of bonus features, and you cannot win any free spins in this simple game. That being said, this UK online slot is not completely bare of bonus features too. This game makes use of upgrading symbols, which can increase your variance of a wild win for payouts up to 500x your stake. There is also a special Progressive Bonus Round in this exciting online slot, which can offer a bonus mini game to play where payouts up to 1,000x your stake can be won. These bonus features may be very simple, but they can also be very rewarding for players of this game.
About the Developers
Gold Train is developed by Pragmatic Play, who frequently introduce this incredibly simple and minimal style of slot design into a lot of their games.
Similar Slots
If you love simple slots are want to try more from this developer, we recommend Sweet Bonanza Online Slot, Super Joker, a traditionally inspired game with a similar layout and bonus features, and The Dog House UK Slot available to play on all devices here at uK Online Slots casino.