The Dog House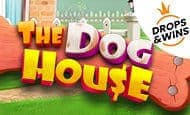 Register Here - View Promotions - UK Online Slots
The Dog House by Pragmatic Play for UK Online Slots
Pragmatic Play's The Dog House is a humour-filled UK online slots with 5 dog themed reels and 3 rows, offering a stronger 96.51% return to player rating with a fixed payline pattern that consists of 20 ways to win in total. This game offers the chance to trigger bonus features such as a Free Spins Bonus Round, Sticky Wild Symbols and Multiplier Boosters. Play The Dog House here at UKOnlineSlots.com, as well as over 750 UK Online Slots, and we will give you 500 free spins to use on your first deposit as a new player, from our Welcome Offer. 
Overview
The Dog House is a very light hearted slot by Pragmatic Play developers, which features a theme of dogs and animals. If you are a dog-lover and want to dive into this cartoon themed Slot Games, you will be treated with brilliant bonuses and the potential to win big money. Through multipliers up to 3x, special jackpot payouts and plenty of free spins, there is a great chance to win some huge prizes in this slot. The game consists of a high variance, which gives a good chance for players to win something from this game. The slot boasts a fair betway pattern, and the use of various wild symbols in various forms to help you make a win in this slot and complete fun tasks to unlock Trophies.
Variance is vital when it comes to choosing the right slot to play, and The Dog House offers some excellent incentives in the form of variance. As a high variance slot, this game boasts an increased likelihood of winning a payout, or access to the bonus round in this game - as this is the aim of any slot, this is sure to please some players of this game. The RTP rating, which sets the high variance of this game, is a higher 96.51% which is an above average volatility which gives this slot a nice promise. The betway pattern also assists in your chances of winning - the more ways to win, the higher your chances of winning a payout in this game. The betway pattern of this slot is fixed throughout the game, and offers up to 20 ways to win. This number of paylines is completely normal for a 5 reel slot, meaning there is nothing unfair about the payout system of this game. 
The Dog House has one of the most appealing betting ranges available by all games at this online casino, which means that more players can enjoy this slot, regardless of strategy or betting style. The betting range of this animal themed slot is £0.20 to £100, which gives you all of the room you could need to try out various strategies in this exciting game. If you want to play it safer with limited stakes, you can place bets as low as £0.20 to do this. That being said, you can also take the plunge with larger bets up to £100 if you are feeling lucky, which will bring in much higher payouts than the lower stakes. Choosing your bet is where your personal style comes into action, but bet wisely as your chosen stake will directly influence your payout. 
Payouts and Symbols
Talking of payouts, The Dog House uses a very simple payout system which uses the 20 available paylines of this slot. In order to win anything from this game, you need a payline of 3 (or more) matching symbols to land adjacent from each other in the same spin - there are no nudge features available in this game, so if the symbols do not land this way then there is no way to fix this other than to spin again. Each symbol will offer a varying value of payout, but all paylines in this slot will offer the same payout. There is a jackpot of 750x your stake in the main game, which is a brilliant win to work towards - offering up to £75,000 for a huge payout for any player. However, the fun does not stop there as this game makes use of multipliers, which can boast up to 9x your win to create some hugely impressive returns! 
The theme of The Dog House is animals and dogs, all presented as fun, lovable cartoon characters to add something interactive to the reel. This design is spread across 5 reels and 3 rows, including a very vibrant slot design which is also incredibly easy to play. Not only is the reel full of various breeds of dogs, there are also dog related items such as leads and bones, to create a diverse reel design. The game is set inside a dog kennel, to complete the theme, as well as the inclusion of audio effects such as dog barks to add more engagement. 
Bonus Rounds
The Dog House includes some brilliant payouts and bonus rewards, which are the selling point of this entire slot. The main bonus feature of this game is the Free Spins Feature, where you can win up to 27 free spins in total. If you land a payline of 3+ scatter symbols, you will receive 5x your stake and access to this special feature, to play the game for free and try your luck at the 750x your stake jackpot. Other features in this game include multipliers, including 2x, 3x and up to a huge 9x your payout - these are known to seriously boost the payouts of this game. There are also Sticky Wilds used in this slot, which can come in handy during free spins!
About the Developers
The Dog House is developed by Pragmatic Play, who are behind the creation of similar, popular games.
Similar Slots
Similar slots such as Sweet Bonanza UK Online Slots, Tree of Riches and Honey Honey Honey UK Slot Game for a different theme with the same quality of visuals and payouts, also with a simple design to enjoy and available to try here on all HTML5 and JavaScript compatible devices at UK Online Slots casino.