EmotiCoins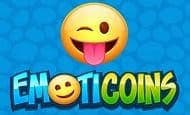 Register Here - View Promotions - UK Online Slots
EmotiCoins by Microgaming and Slingshot Studios for UK Online Slots
Emoti Coins is a new, emoji themed UK Online Slots developed by Microgaming and Slingshot Studios, featuring a very colourful design of 5 reels and 3 rows. The variance of this online slot is medium, with a 96.5% return to player rating and a very generous payline pattern of 30 ways to win. The bonus features of this action-packed game include a Wild Blast Feature, a Wild Sticker Feature and a Free Spins Bonus Round. Play Emoti Coins here at UKOnlineSlots.com and we will give all new players 500 free spins Welcome Offer to use when they place their first deposit online, with over 750 new online slots to play on all devices and to complete fun tasks to unlock Trophies. 
Overview
Emoti Coins is a modern, Gen Z inspired online slot which features all of the emojis we have seen before on our phones. If you are seeking a very modern, technology inspired game which boasts plenty of wild features and a free spins bonus round, then this game is exactly what you are looking for. A simple and easy online slot, this game is perfect for any player - although your stake strategy must fit in between the pretty strict betting range which restricts many betting styles at this online Slot Games casino. This online slot is very colourful and eye catching, but there is nothing quite as attractive about the huge payouts which are on offer. The bonus features of this slot may not hand out much, but the jackpots can reach huge heights across this well-paying slot. 
Emoti Coins is a medium to high variance game, which hits high marks in all concerns of volatility. The main features of variance is the RTP rating and the number of betways, and this game exceeds expectations in both of these areas to offer a very strong variance overall. The RTP rating determines how many payouts are given out to all players of this slot, and this game boasts an above average rating of 96.5% which looks very promising at this online casino. The betway pattern of this game is very generous, offering a whopping 30 paylines to work with. Not only does this offer far more than the average count of betways, this payline pattern is complete with the beloved Win Both Ways design which allows paylines to be made across left and right directions. This game boasts various wild features, which allows for increased variance throughout the game. 
Emoti Coins is complete with a small, limited betting range which is rather strange when compared to other online slots at this casino. Firstly, this betting range requires stakes above the minimum of £0.30 per spin, which is rather large in comparison to other games. This makes this game more expensive to access, although the bonus features and payouts which are made available in this game can definitely justify this. The maximum stake limit of this slot is £30 per spin, which restricts players from placing larger bets above this limit. The betting range of this slot may not be the most accessible and flexible of all player intentions, however it does cover the most common stakes which players are likely to place. Also, the benefit of this betting range is that you are influenced to place lower bets, and can even still win big money through the powerful payouts used in this slot. 
Payouts and Symbols
Emoti Coins has a very simple aim of the slot, which is to land 3, 4 or 5 symbols of the same kind across a payline. Luckily, this slot is more flexible and lenient with the way symbols can land to qualify for payouts - this covers multiple directions and more ways to win. The extra bonus features which are used in this slot, such as the use of free games and wild features, also help in making these paylines more possible. Each symbol payline will offer a different multiplier, which then takes the stake placed during the round to calculate a payout. The higher you bet, the bigger the payouts will be - meaning, in order to win the maximum jackpots of this slot you need to play with the £30 maximum stake. The jackpot of this exciting game is 7,500x your stake, a huge payout to be won which can make truly magical payouts from even the smaller scale bets in this slot. 
Emoti Coins is complete with a theme of emojis, small smiley face symbols which we are familiar with on our mobile phones. With an array of smiley faces on your screen, this game has a rather cheerful and lighthearted aesthetic to it, complete with animation and audio to add modernity. This game is simple straight forward and very easy to follow, and will be a perfect selection for beginner players to enjoy this slot. 
Bonus Rounds
The bonus features used in Emoti Coins include a variation of free spins and wild features, designed to help players make wins by increasing their chances. The free spins bonus feature offers players a maximum of 10 free spins, which is not the best number of free spins to receive although every little helps. The other features of this game include a Wild Stickers Feature which adds sticky wilds to your reel for the duration of a number of spins, as well as a Wild Blast Feature which adds random wilds to your reel to boost the value of your potential payouts. These bonus features are both designed to increase players' chances towards the 7,500x your stake jackpot which is the main focus of the entire game. 
About the Developers
Emoti Coins is developed by the combined efforts of Microgaming and Slingshot Studios, who have teamed up to create this very original and modern online slot.
Similar Slots
These developers are behind some brilliant online slots, such as Big Top Online Slot, a circus themed slot ready to play here at UK Online Slots casino.