Big Top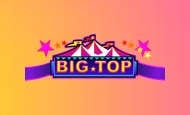 Register Here - View Promotions - UK Online Slots
Big Top by Microgaming for UK Online Slots
Microgaming's Big Top is a 5 reel, 3 row circus themed UK online slot with medium to high variance and a strong 96.94% Return to Player Rating with a total of 9 paylines across a fixed betway pattern. The bonus features of this game offer Wild Multiplier Wins which can create some huge jackpot payouts. You can play Big Top and over 700 other UK Online Slots at UKOnlineSlots.com.
Overview
Big Top by Microgaming has a fun, colourful circus theme which spread across the 5 reel and 3 row design. Designed to accommodate all players, this game is particularly simple and features very basic design and bonus features. If you are looking for a complex online slot, you will definitely be disappointed by this game as there is nothing complicated or advanced involved in this slot - simple format, no bonus rounds and a very traditional design.
This online slot offers a very strong RTP rate which is easily the most appealing aspect of this slot, offering a 96.94% RTP - this offers medium to high variance to give this slot an extra high chance of winning in comparison to other medium variance games. To balance out this high variance, you have just 9 paylines available which is very low for a 5x3 reel slot. This limited betway pattern is as a result of the high RTP rate, to keep things fair and manageable. This may make paylines seem harder to make, but the high variance ensures an increased likelihood of paylines being made in this slot.
The payline pattern will cover limited directions and variations in comparison to the usual betway pattern for a 5 reel slot, which does pose as quite a challenge in this game. To play this circus online slot, you can do so with a minimum stake of just £0.10 which gives this game a very cheap access. As well as the low, risk-free stakes, you can take the plunge and bet up to £100 for the higher returns. As this game uses multipliers for every payout and there are no fixed jackpots available, your stake is very important as it will directly influence the payout you receive at this online casino.
Big Top is set inside the big tent of a circus, creating a colourful and quirky theme and design. In fact, all of the symbols in this game are made up of circus performers including aerial dancers and fire breathers, to create a very unique design to this slot. With 5 reels and 3 vertical rows, there is nothing complex or unordinary about this online slot. This game comes with audio effects and an upbeat soundtrack, to replicate an authentic circus. Overall, the design of this online slot is certainly not one of Microgaming's best, as it is very basic and traditional. That being said, this format is perfect for beginner players as it is incredibly easy to navigate. With HTML5 and JavaScript compatibility, this slot is ready to play on mobiles as well as desktop devices.
Payouts and Symbols
Big Top offers some exceptional payouts throughout the game, which is good considering there are no bonus rounds or symbols on offer. The lack of bonuses does mean that all high payouts are available in the main gane, which does make this slot more appealing with a straightforward concept at this online casino. This online slot features the chance to win up to £500,000 which is a huge win which is rarely available at this online casino. This payout is not available to everyone, as this will only be generated from a stake of £100 and through the wild wins and multipliers of this slot. Each payout in the main game is generated through a payline of coordinating symbols - each symbol needs to match exactly and be placed across one of the 9 qualifying ways to win.
These symbols vary in terms of value - for example, not all of the symbols will offer the jackpot prize of 5,000x your stake. This slot uses card royals which, as expected, are the smaller value payouts of this slot. Like all online slots, the higher jackpot prizes are made through wild symbols, for a payline of 5 matching symbols. If you make a winning payline of 3 symbols, you will receive a lower payout than a payline of 5 symbols. As well as this, if you win a payout with a stake of £0.10, your payout will be much less than if you placed a stake of £100 on that spin.
Bonus Rounds
In regards to bonus features and symbols, there is not much to comment on with Big Top. This online slot does not offer free spins or special bonus features, which does let this game down slightly as it feels like there is something missing. The real attraction to this online slot is the 5,000x your stake or £500,000 win, which is made through the wild symbols. The only thing which can be considered a bonus in this game is the wild symbols, which add something special to the slot without making a complex bonus round. This game is suitable if you are not phased by bonus features, this simple online slot will suit you however with no free spins or bonus games available, there is not much to offer here.
About the Developers
Big Top is developed by Microgaming, as one of their more basic UK online slots. These developers have created something for everyone including very simple slots just like this one, as well as very complex online slots with much more to offer in terms of visuals.
Similar Slots
Microgaming also usually include various bonus features, so if you want to see more games by these developers, try Dragon Strike or Relic Seekers, both available at UK Online Slots!