Cyrus the Virus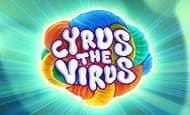 Register Here - View Promotions - UK Online Slots
Cyrus the Virus by Yggdrasil for UK Online Slots
Yggdrasil's Cyrus The Virus is a science themed UK Online Slots with 5 reels and 3 rows, featuring a medium variance rating of 96.3% return to player and a fixed betway pattern of 10 ways to win in total. The bonus features of this online slot are very simple and include a Respin Bonus Feature with the use of Expanding Wild Symbols in the game. Here at UKOnlineslots.com, you can play Cyrus the Virus or over 750 other online slots across most devices. We currently have a brilliant welcome offer available for new players to use, which gives them 500 Free Spins on their first deposit online and to complete fun tasks to unlock Trophies.  
Overview
A virus may be an unusual theme or concept for a slot, but Yggdrasil have continued to break boundaries with this scientific theme in Cyrus The Virus. This slot is  avery unique and quirky slot design, featuring lots of colour and cartoon visuals to add a light-hearted feel to this strangely themed game. With 5 reels and a commonly used betway pattern, all players of all experiences and abilities can dive right into this game right away. There are not tonnes of bonus features in this game, although Yggdrasil have added something extra into the slot in the form of respins and expanding wild symbols. The game offers a fair variance and a reasonable betting range for a wide selection of players, making this game very flexible at this online Slot Games casino.
Cyrus The Virus is considered a medium variance slot, but both variance features of this game are actually above average as far as online slots show at this casino. A medium variance translates to a fair chance of winning, and both metrics of this slot are bordering on higher variance to offer a good chance of winning at this game. The RTP rating of this slot is set to 96.3%, which is far above the average rate for players - this offers an increased chance of winning, for a much more appealing slot. The payline pattern supports this volatility even more, by giving you 25 ways to win at this game. The betways cover multiple directions in this slot, making it a Win Both Ways game engine which is also appealing to players as it offers an enhanced likelihood of making those all important paylines.
In Cyrus The Virus, you need to place stakes between a range set by Yggdrasil. These betting ranges are normal for all players, and they determine how high or low you can bet in each game. It can be common to adapt your usual stake strategy for some slots, and this game is no exception. The betting range of this slot is very limited, allowing only bets between the range of £0.10 and £40 per spin. This betting range restricts the possibility of placing stakes above this limit, which makes this game much more suitable for players who choose the smaller betting strategy which limits them to lower bets. Although this is not the widest betting range, it certainly is not the most limited as it still offers players some free room to choose their own stake strategy in this game.
Payouts and Symbols
Cyrus The Virus uses the same, standard concept of all online slots which includes creating paylines of 3, 4 or 5 matching symbols. Each of the paylines available, with 25 in this game, offers how the symbols must land in adjacent patterns to qualify for a win. Every win will be paid out in a multiplier - this is why betting choice is important in this game, and all other online slots, as it directly influences your return. As in many games, the symbols to go for in this slot is the wild symbol, which tends to be the most valuable symbol of the slot. Paylines of wild symbols in this game, which is the virus symbol of this slot, will bring you 2,000x your stake if you manage to land 5 of these special symbols in one betway. This can offer a huge return from even a small stake, and can create even larger payouts if you have made use of a maximum limit in this slot. There are no multipliers or boosting bonus features in this game, so this jackpot is the highest you can win in this slot. 
Cyrus The Virus is a very simple, basic slot which features a quirky theme. Based on a theme of medical science, this Yggdrasil slot is complete with colourful cartoon visuals and a very clear navigation across the 5 reel and 3 row design to ensure an easy gameplay. This slot is complete with the usual high standard of visuals, which we have seen across a wide range of Yggdrasil slots. 
Bonus Rounds
Cyrus The Virus is also very simple in bonus features, as well as design. There are very few and limited features available in this game - with the use of respins and wild symbols as the only features in this slot. The main bonus round of this slot is the Respin Feature, which combines the use of expanding wild symbols with free respins of your reel to encourage that 2,000x your stake wild payout of this game. There are no free spins or bonus rounds available in this game, but the wild respin features of the slot offer everything you need in the form of an exciting bonus round designed to boost your chances towards a jackpot payout.
About the Developers
Cyrus The Virus is developed by Yggdrasil, who are known for their excellent HD visuals and original themes which break boundaries of usual slot themes and designs, at this online slots casino.
Similar Slots
For more exciting games by Yggdrasil, be sure to try their popular game Beauty & The Beast Online Slot, Valley Of The Gods and Easter Island UK Slot here at UK Online Slots casino, a historic themed game with excellent visuals and design features, available to play across a range of compatible devices.