Code 211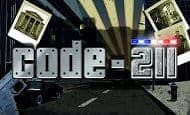 Register Here - View Promotions - UK Online Slots
Code 211 by Genii Gaming for UK Online Slots
Genii's Code 211 is a police themed UK Online Slots with 5 reels and 3 rows, featuring a fixed betway pattern of 15 paylines in total and a lower Return to Player Rating of 93% to offer a low to medium variance. This exciting game includes some bonus features such as a Free Spins Bonus Round and a Grab the Loot Bonus Feature. You can play Code 211 here at UKOnlineSlots.com, alongside over 750 other online slots and to complete fun tasks to unlock Trophies, we will give you access to our Welcome Offer which gives new players 500 free spins to use on your first deposit online. 
Overview
Code 211 is an exciting slot with a unique theme of policing, featuring car chases, machine guns and cases of money across the game to create the exciting theme set by the Genii developers. On the face of it, this game is very simple and easy to follow, being just 5x3 reels in size, fitted with a basic payline pattern that is also easy to memorise for all players at this online Slot Games casino. This game boasts two special bonus rounds which include a separate Free Spins Feature and a Grab The Loot Feature, both offer the chance to win free games, 3x multipliers and a Prize Pick feature to offer another way to win money in this slot. The payouts of this game are pretty good, especially when you manage to combine the 3x multiplier and the jackpot to treble the highest value payout of this game. Overall, this game offers lots of thrills and excitement through the dramatic, police theme and lots of extra bonuses thrown in for good measure. 
Code 211 is a low to medium variance game, which means payouts are less likely to come around in this slot. It seems that Genii have designed this variance to give this game more of a challenge, whilst offering extra high payouts and special rewards for those who do manage to make paylines in this slot. The variance of this game is defined by the RTP rating and the payline pattern, both of which are on the lower and more challenging side of variance. Firstly, the RTP rating is just 93% which is way below the average rate of variance at this online slots casino, placing this game in the lower variance category. The payline pattern is fair at 15 paylines in total, however this is also below the usual design for a 5 reel online slot. If you don't mind the extra challenge presented to you due to this variance, then you may be in for some brilliant rewards.
To play Code 211, your stake must be between the set betting range which places restrictions on how high or low players can bet in each game. This game has the cheapest possible minimum stake requirement of £0.01, which makes this game the cheapest slot to play at this online slots casino. This feature will definitely appeal to anyone looking to keep their stakes as low as possible, as it is pretty rare for online slots to offer such a low bet. This betting range allows stakes up to £30 per spin, which means there is a smaller range of stakes allowed in this slot. Some online slots allow players to bet with higher, riskier stakes however the betting range of this particular game is pretty restrictive. 
Payouts and Symbols
Code 211 offers some excellent payouts, which makes the lower variance of this game worthwhile - the concept of this game is that although payouts are more rare to come by, they can be much higher in volume. In fact, the jackpot in the main game alone is 7,500x your stake which can create some huge returns from essentially any stake played in this game. Such high volume payouts like this one do not need high bets to create big money, which does mean players can place small bets in this slot and still win big money, which gives a certain appeal to this game. Even bigger payouts can be made in this slot, with a multiplier boost up to 3x your payout available to activate. This multiplier allows players to treble even the jackpot payout of this slot, which can lead to some huge returns. As mentioned before, payouts are slightly rarer to come by in this low variance game, but if you are up for the challenge, this slot offers excellent payouts.
Code 211 is on the theme of police and car chases, which features 5 reels full of police and drama themed symbols. If you are looking for a slot with a thrilling theme, look no further as this game is full of exciting features and visuals. Alongside a dramatic and upbeat soundtrack, this game is full of police and crime related symbols such as cases of money, fast cars and machine guns. This style of slot may not be for everyone, and does offer a more fast-paced design to the game overall. 
Bonus Rounds
The bonus features of Code 211 offer a wide variation of features to add extra excitement to this game, whilst also helping you out in making a payline in this low variance slot. The special Free Spins bonus symbols will activate the Free Spins Bonus Round, you will win up to 20 free spins as well as activation of the excellent 3x multiplier which actually trebles your payouts. The other bonus feature in this police online slot includes a Grab the Loot Bonus Round, activated through the cash case symbols - this is essentially a Prize Pick Feature where you choose from cases to reveal cash multiplier prizes. 
About the Developers
Code 211 is developed by Genii, who are known for creating a huge range of themed slots.
Similar Slots
including Aladdin's Loot Online Slot, the perfect online slot UK for any fans of Aladdin the fairytale, Age Of Spartans UK Slot - play both of these games here at UK Online Slots casino.