Aladdins Loot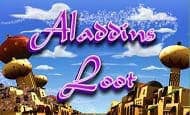 Register Here - View Promotions - UK Online Slots
Aladdins Loot by Genii for UK Online Slots
Genii's Aladdin's Loot is a fairytale, Arabian themed UK Online Slots with a 5 reel and 3 row design. This HD slot is complete with a 96% return to player rating and a fixed payline pattern which consists of 25 ways to win in total, creating a medium variance rating overall. The game offers some brilliant visuals and a special bonuses including the Free Spins Bonus Feature with double wins also available. Play Aladdin's Loot here at UKOnlineSlots.com with over 700 online slots available online to play! 
Overview
Aladdin's Loot is based on the Arabian fairytale of Aladdin, a Disney tale which follows a romantic tale of a princess. This game has an additional theme of magic to coordinate with the overall fairytale theme, which offers a mystical design and some special animated effects to create a very engaging and modern slot design. This game is 5 reels in size, offering a very simple gameplay which even beginners can play with ease. The variance of this fairytale themed slot is complete with a 96% return to player rating, which is very standard for all games of this size and style - this is the fair variance and makes this game medium in terms of volatility. The slot also consists of a fixed betway pattern which uses a Win Both Ways game design and gives players 25 ways to win in total. This betway pattern is particularly strong for a game with 5 reels and 3 rows, making winning slightly easier as well as bonus features more likely to be triggered which also contributes to a higher chance of winning. This game offers an excellent theme complete with lovely imagery, and a medium variance to ensure you're not playing a pointless game and payouts can be regular.
Aladdin's Loot has a very unusual betting range, which only allows players to place stakes between £0.01 and £25 per spin - this is much lower than most online slots, which does pose as a restriction to some players. This design is only welcoming of smaller stake strategies, which will defer players who prefer playing with larger stakes. A common feature of slots with a small betting limit such as this one is that they usually include higher multiplier payouts - this is needed to balance out the lower stake value, which can make it more appealing as it offers some pretty high payouts without the need for risking it with large bets. This game does deliver on this usual expectation, through a high jackpot payout and some higher multipliers available.
Payouts and Symbols
Aladdin's Loot comes with a strong theme of Aladdin, the fairytale we all know of. This theme is complete with symbols of Aladdin himself including various other characters across the 5 reel design, which all feature HD graphics by Genii for a visually strong slot to play. This game has a pretty simple concept, which is for players to create paylines of 3, 4 or 5 matching symbols across a payline - there are 25 different variations for these symbols to land, you just need to make sure that you get one of each symbol across each of the reels. The payout offered will depend on which symbol you place, with a high value payout being Aladdin's character himself.
This symbol can pay out up to 7,500x your stake which is a huge wild payout to win from a simple payline. This can generate up to £187,500 from a very small bet of £25. When you realise that these payouts are available from smaller bets, the smaller betting range of this game is suddenly a more appealing aspect of the slot as this game makes it possible for players to spend less on stake and win more on payouts. In this game, all payouts on offer in the main reel can be doubled if you manage access to the bonus feature of the slot. This is due to the 2x multiplier which activates during the free spins of this game, offering payouts up to 15,000x your stake!
Bonus Rounds
Aladdin's Loot is a pretty simple game, most known for its higher payouts and ability to take smaller bets and turn them into payouts up to £187,500 at this online slots casino. These payouts are made available through jackpots such as 7,500x and 15,000x tour stake. The bonus feature in the game is the Free Spins Feature, which you will activate if you land 3, 4 or 5 of the lamp symbols. 3 lamps will give you 10 free spins, followed by 15 free spins for 4 lamps and a maximum of 20 free spins awarded for 5 lamps across a payline. Alongside these free spins, you will benefit from a 2x multiplier which will double all payouts, even the jackpot win. This multiplier is exactly what you need to access higher jackpot prizes of up to 15,000x your stake at this online slots casino. These bonus features also include wild symbols which are the main bonus symbols of this game - these include the Aladdin character symbol, which offers access to jackpot payouts and extra high wins. The bonus features of this game are pretty basic, but add just enough to this slot to keep things interesting at this online casino.
About the Developers
Aladdin's Loot is developed by Genii, as one of many Aladdin themed games available to play across mobile , tablet and desktop devices here at UK Online Slots casino.
Similar Slots
If you enjoyed this game, we recommend trying another variation of an Aladdin themed slot in Aladdin and The Sorcerer - this game boasts far more bonus features and a much higher betting range than this slot, which makes it a more advanced version of this game at this online slots casino.