Bingo Billions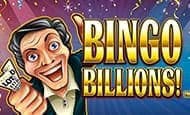 Register Here - View Promotions - UK Online Slots
Bingo Billions by NextGen Gaming for UK Online Slots
NextGen Gaming's Bingo Billions! Is a bingo style UK Online Slots with 5 reels and 3 rows, offering a medium variance from a 95.04% return to player rating and a generous fixed betway pattern which boasts 25 ways to win. The bonus features included in this bingo themed slot offer a special Free Spins Bonus Round and a thrilling Gamble Feature. Here at UKOnlineSlots.com, you can play Bingo Billions! And over 750 other games on all devices and to complete fun tasks to unlock Trophies. Currently, we offer new players a welcome of 500 Free Spins to use across all games when they place their first deposit online. 
Overview
Bingo Billions! Is a brilliant online slot to play for anyone who loves bingo, a popular casino game which involves calling out numbers and hitting lines or houses to win cash. Although this is in the form of a modern online slot, this game still features bingo-related themes such as numbered symbols and a bingo caller in the game. NextGen have clearly created something unique and different in this Slot Games, which is very well put together to create a HD design with engaging graphics and visuals. This game is of medium variance, meaning there are no major complications or difficulties in making a win here - and there are some excellent payouts up for grabs in this slot, especially in the huge jackpot! The bonus features can bring you free spins, and the chance to double your winnings for a much higher return in the commonly used Gamble Feature. Overall, this game offers something exciting and new, ideal for all player abilities and especially enjoyable for anyone who loves a game of bingo but wants the enjoyment of an online slot.
The variance of Bingo Billions! Is medium, offering a sufficient chance of winning without making payouts too challenging. The RTP rating offered in this colourful game is 95.04%, which may sound low but this still qualifies for medium variance to give you a fighting chance for the payouts. The betway pattern is on the stronger side, offering a whole 25 ways to win across the game - these will determine how you make a winning payline for cash payouts and access to bonus features. As well as these standard variance features, this game includes the likes of Free Spins which can also boost your chances of winning something out of your stake, by making it go the extra mile. Although the variance of this game is not the best, the payouts available in this slot make this worth it as there are some exceptional jackpot wins available.
Bingo Billions! Is played using smaller scale stakes, with a limited betting range available for players to use. With this betting range, there is no option to be with significantly high stakes, meaning players intending to use this strategy will be unable to do so. That being said, you can place stakes between the range of £0.10 and £50, which offers players just enough room to explore without taking the risk of placing large bets, at this online casino. Be assured that even though you cannot bet with huge bets in this slot, you can still win big money due to the high multiplier wins and the use of the special Gamble Feature in this slot. That being said, you will still need to bet wisely as every bet you place will influence your payout through the multiplier payout system. 
Payouts and Symbols
Bingo Billions! Is a brilliant slot, based on the concept of bingo to offer something fresh and exciting at this online casino. Although this game is themed on bingo, the way to win on this game is not to match the numbers called out by bingo callers, it is still to match paylines of 3-5 of the same symbol, as all other online slots are played. One thing which makes this bingo theme shine through in this game is the use of bingo ball symbols, which make up the majority of your reel. The lowest value symbols of this game are the bingo balls, offering basic payouts no higher than 25x your stake. More valuable symbols such as gold bars and stacks of cash will bring you bigger payouts, with a jackpot of up to 5,000x your stake! Using this jackpot, the highest possible return in this slot is up to £250,000 which is an enormous win to gain from a stake of £50 played in this game. To win this huge return, be sure to look out for the bingo caller character, which is the wild of this entire slot. 
Bingo Billions! Is designed by NextGen Gaming to feature a theme of bingo, offering well-designed bingo ball symbols and a bingo caller character to make up the symbols on your reel.With 5 reels and 3 rows, there is not much to manage in this game as it is of a smaller size, to ensure a beginner friendly gameplay. 
Bonus Rounds
There are two bonus features in Bingo Billions! Which will offer you the chance to win free spins and potential to double your winnings. The main feature of this game is the Free Spins Bonus Round, which is activated through the 'BINGO' symbols found across any reel or row. Three of these symbols will give you 10 free spins, four symbols will offer 15 free spins and if you manage 5 symbols you will win 20 free spins. The second feature of this game is the Gamble Feature, which is an optional chance to risk it all before every payout is made - you have a 50% chance here to double your winnings, or lose it all and the choice to take part is entirely up to you. 
About the Developers
Bingo Billions! Is developed by NextGen Gaming, who are also behind hit online slots.
Similar Slots
Similar slots such as Doctor Love on Vacation Online Slot, Foxin Twins, an animal themed game and Foxin' Twins UK Slot available to play here at UK Online Slots Casino.