Foxin Twins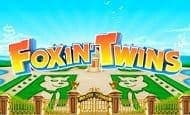 Register Here - View Promotions - UK Online Slots
Foxin Twins by NextGen for UK Online Slots
NextGen's Foxin' Twins is a colourful, cartoon animal themed UK Online Slots with 5, offering medium to high variance with a brilliant RTP rating of 96.75% at this online casino as well as as 10 fixed paylines available. This slot is full of exciting bonus features including a Super Bet Feature, Multipliers up to 20x, 2 wild modifiers in the main game and an action packed Free Spins Bonus Round. At UKOnlineSlots.com, you can play over 700 of the latest games including Foxin' Twins at online casino. 
Overview
Foxin' Twins is one of the more unique and interactive games by NextGen, featuring two fox cartoon characters full of mischief to bring the theme alive. This game is strong in variance, payouts and bonus rounds which are rarely all strong points across online slots, making this game an all-round high hitter. The variance of this game is medium to high, bordering on a highly volatile slot through the very strong RTP rating of 96.75%, which is far above the average rate of variance at this online slots casino. This rating is important as it makes winning more possible in this game - this high value of RTP means that more payouts are handed out per bet placed than in most online slots. To accompany the variance, this slot is complete with a fixed payline pattern of 10 ways to win - this is fixed into position and will not be changed throughout the game. This slot is not particularly beginner friendly, as the layout and payline pattern is very unique featuring two sets of 5x25 reels, a very interesting design which you are unlikely to have seen before. Overall, this game is a strong, high variance game which also comes with various bonus features which complement the variance well to offer a good chance of winning in this game!
Foxin' Twins uses a very personalised design when it comes to placing stakes, you can either opt for a Super Bet Feature which consists of a higher betting range for players to unlock extra benefits in the form of free spins, multipliers and increased jackpot payouts. If you opt into this Super Bet Feature, expect to place larger bets with a range of £1 to £250 per spin which is potentially one of the most expensive minimum stakes and one of the higher maximum bet limits available across all games at this online slots casino. If you choose to opt out for the Super Bet Feature, and you do not mind losing the extra benefits and potential to win higher payouts, the betting range available to use is £0.25 to £62.50 - which is much smaller and limited in comparison. These options make the game much more personalised for the player, welcoming a wider variation of players and betting style to this game. 
Payouts and Symbols
Foxin' Twins is designed as a very unique slot, featuring 2 sets of 5x25 reels which is much more complex than your usual game. The slot is set outside a cartoon mansion with bright blue skies, complete with animated effects behind the reel to tell the tale of these mischievous fox twin characters. In this game, the symbols are made up of your usual low value A, K, J, Q and 10 card royals which offer the very basic payouts of the game. Other, more interesting symbols, include private jets, champagne and fox characters to portray the luxurious lifestyle lived by these cheerful fox characters.
The game's jackpot is around 500x your stake, which is won through the basic betting range option as a payline of 5 wild symbols in the game. If you opt into the Super Bet Feature, you have payouts up to 20,000x your stake opened up for you which is a huge difference on the otherwise basic jackpots in the original slot. There are multipliers in this game which can reach up to 20x, which are the key to the huge payouts of this game - you need access to the Free Spins Feature in order to find these multipliers, which should not be too difficult. Overall, if you want to see the huge winnings of past £1million in this game, you need to think about entering into the Super Bet Feature where much higher benefits are offered.
Bonus Rounds
In Foxin' Twins, you have the enjoyment of plenty of bonus features to choose from, including randomly activated features. In the main game, there are two modifiers which are randomly triggered at any time - you may or may not see them, but the fact they are randomly activated is brilliant. These features are the A Little Wild Feature and the Gone Wild Feature, both of which add wild symbols to your reel at any time to hopefully trigger a high value payout. The Super Bet Feature is an optional feature which offers increased free spins, multipliers and payouts throughout the whole game. There is also a Free Spins Bonus Feature which can be actioned through paylines of 3, 4 or 5 scatter symbols across one of the 10 paylines.You will receive 10 - 100 free spins depending on how many scatter symbols you land and whether the Super Bet feature is active. There are up to 200 free spins available in this game, which are more than enough for some free game fun and to win payouts up to 20,000x your stake through multipliers up to 20x which are active only in this feature! 
About the Developers
Foxin' Twins is developed by NextGen, who have created similar high quality online slots.
Similar Slots
Similar slots such as Merlin's Monkey Burst which is another animal themed, cartoon fun game with similar bonus features and also available  to play here at UK Online Slots casino across HTML5 compatible mobile, tablet and desktop devices.