Action Ops: Snow and Sable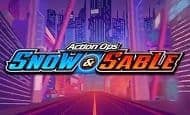 Register Here - View Promotions - UK Online Slots
Action Ops: Snow and Sable by Microgaming for UK Online Slots
Microgaming's Action Ops: Snow & Sable is an action themed UK Online Slots with a medium variance, offering a pretty high return to player rating of 96.03% with a fixed payline pattern of 10 ways to win across 5 reels and 3 rows, for a simple and accessible design. The bonus features offered in this online slot include a Free Spins Bonus Feature and a Wild Reel Feature, with some huge jackpots available to win. Play Action Ops: Snow & Sable here at UKOnlineSlots.com, where we have a current welcome offer to give new players 500 Free Spins when they place their first deposit online, usable across more than 750 online slots and to complete fun tasks to unlock Trophies. 
Overview
Action Ops: Snow & Sable is an action themed online slot by Microgaming, which features a fictional story line complete with characters across the reel to create a very engaging slot to play, at this online Slot Games casino. On the face of it, this online slot is very easy to play through an accessible slot design with easy to follow reel format. There are also special bonus features included where you can expect Free Spins and Wild Reels, which both increase your chance of winning a high value payout of this game. There are some brilliant rewards on offer in this game from 250x your stake payouts and fully wild reels. The variance and betting range available in this slot are perfect, offering just enough likelihood of winning and a flexible betting range, which allows all players to try their luck in this game. 
In regards to volatility, Action Ops: Snow & Sable is a medium variance game with a fair RTP rating of 96.03% which is an average rating for any online slot - this is good news for players as it means there is a fair, suitable chance of winning at this slot. Variance is also determined by a betway pattern, which offers a certain number of ways to win. This slot has a fixed betway pattern, which cannot be adjusted or changed throughout the game or via any bonus features - although there are some bonus additions which can increase the variance overall. This slot has 10 ways to win in total, which is not the strongest payline pattern for an online slot to offer. Although the payline pattern of this game is pretty weak, the overall variance looks promising - and there are also special bonus additions which can help you in the right direction towards a win, such as free spins and wild features.
Action Ops: Snow & Sable has a very flexible betting range, which welcomes smaller stakes from £0.10 and larger bets up to £100 per spin - you can bet more than these across multiple spins, however this betting range determines how high (or low) you can place bets per spin. The best betting ranges offer a wide range between the minimum and maximum stake limits, as they offer full flexibility and freedom for players to use - these are more inclusive slots for all player styles. This betting range not only offers the cheaper minimum access point, but also allows players to bet with triple figures which are the larger, rarer stakes used by all players at this online slots casino. 
Payouts and Symbols
In Action Ops: Snow & Sable, the concept relies on making paylines of matching symbols, with a minimum payline being 3 symbols and the maximum paylines being 5 symbols, which are the higher paying forms of paylines in this slot. The process of winning the highest wins of this slot is to make maximum paylines of 5 of the same symbol, through the wild and higher value bonus symbols whilst using the maximum stake limit - all of these combined will give you the highest possible payouts. There are some brilliant payouts available in this slot which can include the likes of 250x, 500x and even up to 1,000x your stake. There are a huge variety of payouts from this slot, including the basic payouts such as 2x and 10x your stake which are available in the main game. Through this online slot, you can win up to £100,000 as a maximum payout which is a huge win to make at this online slots casino. 
Action Ops: Snow & Sable features a theme of adventure, using characters and a video storyline to create an interactive and immersive slot design. As a Microgaming slot, this game consists of some brilliant visuals using the best developing technology - which also makes this game highly accessible across all HTML5 and JavaScript devices at this online slots casino. This design has 5 reels and 3 rows, offering a simple format to follow for beginner players to enjoy this game. The design of this game is slightly more futuristic and features a neon coloured city backdrop to the reel, which is full of thematic symbols such as characters and more. 
Bonus Rounds
In Action Ops: Snow & Sable, there are two key bonus features to be aware of which are the Free Spins Bonus Round and a Wild Reel Feature. These bonus features are designed to increase the player's chances of winning, which can be very helpful. The Free Spins Bonus Round of this slot can offer great help in winning that 1,000x your stake high payout - this is activated through scatter symbols. You will gain 10-25 free spins depending on how many scatter symbols you manage to find, which will also give you a payout before the feature begins. The Wild Reel Feature is your key to higher payouts, as these can boost your payouts up to 100x for increased jackpot prizes, where players can win up to £100,000 at this online slots casino. 
About the Developers
Action Ops: Snow & Sable is developed by Microgaming, expert creators behind hit UK online slots.
Similar Slots
Similar slots such as Break Da Bank Again Online Slot, Age Of Discovery, 9 Masks Of Fire UK Slot a similar slot to enjoy here at UK Online Slots casino.