Tree of Riches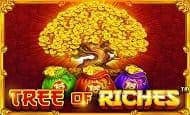 Register Here - View Promotions - UK Online Slots
Tree of Riches by Pragmatic Play for UK Online Slots
 Tree of Riches is a high variance UK online slot by Pragmatic, featuring a 96.4% return to player rate and just 1 simple payline with a basic 3 reel by 1 row design. This online slot is very simple and basic, with limited bonus rounds such as progressive multipliers and wild symbols included. Play over 700 popular UK Online Slots at UKOnlineSlots.com.
Overview
 Tree of Riches is easily the most simplified online slot at this online casino, featuring a very basic 3x1 reel format. In a world full of multiple reels and plenty of rows, this slot can be a breath of fresh air for players looking for something more basic and different. This game replicates a realistic slot machine, which always features just one payline across one row to keep things simple and easy to follow - is this is your style then you will enjoy this oriental themed slot. This game includes a basic format with a Chinese theme, complete with themed symbols to add something unique to this traditionally inspired online slot.
There are no complex betway patterns to memorise as there is just one payline to work with, spread horizontally across the small reel. All you need to do is spin the reel and hope every symbol on the screen is the same, which means a win. There are no other symbols on the reel to distract you, only the ones that really matter which make up the payline. All of this may sound slightly difficult, however this game still boasts a strong variance with a high RTP of 96.4%, meaning there is even a higher chance of winning at this game than in other slots with more reels and paylines - don't let the small nature of this slot imply what you cannot win here, as it is a high variance game with a fair chance of winning.
The best part about this slot is the betting range as it offers the cheapest possible access bet at this online casino - with a minimum stake of £0.01. This is so low in comparison to all other slots, which does give this game a unique advantage over all other online slots at this online casino. In this game you can place anything from the minimum stake up to £50 per spin, which is fairly low in comparison to the usual betting range of slots. This means that your stake must be below this limit to play per spin, which does give you quite restrictive betting conditions at this online casino.
The design of Tree of Riches is incredibly simplified and unique, featuring a basic display of 3x1 reels - this is a nicely different style to modern slots but does replicate the more old fashioned casino slots. The symbols of this game are all on the Chinese themed with various coloured pouches and golden coins making up this basic reel - each shown across the golden reel. The visuals of this online slot are particularly interesting, with HD cartoon style graphics used across the game and an oriental Red background. Play this game on mobile, tablet and larger desktop formats for full flexibility at this online casino.
Payouts and Symbols
 There is nothing more important in this game to know about than the symbol values. Tree of Riches offers a wide range of symbols, from card royals to more complex themed oriental symbols which make up the higher value icons of the game. Each symbol has a unique payout value, some can be as low as 1x your stake and others up to 288x your stake - it is entirely down to the symbol you manage to land across the one payline that is available. The green pouch symbol of this slot offers a payout of 28x your stake for a payline, followed by the purple pouch which ascends to 58x your stake. The higher value pouch symbol is the red pouch which offers up to 88x your stake for a payline.
A nice additional payline is if you land all three pouches in various variations, you will still be awarded 5x your stake even though they are not matching symbols. The highest value symbol of this game is the wild, with an award of 288x your stake for a payline of this special symbol. These payouts are not all that is offered on this game, as you can win up to 2,888x your stake as the maximum possible win of this entire game. This increase is through the multipliers which are available in progressive form in this game, which can reach up to 10x your win for a huge boost on every payout made, generating new wins of 280 - 2,888 times your stake! 
Bonus Rounds
 There are only a few minor bonus features in Tree or Riches, with nothing major included in the game. If you are a true fan of multiplies and wilds, you will be satisfied as these are all that is offered in this UK online slot. There are no free spins or prize pick features in this online slot, which matches the simplified style of this game well. The multipliers bonuses are only activated when a payline involves the wild symbol, which is then added to your payout to give it a little boost. These multipliers can vary from either 5x, 8x or 10x which are all hugely beneficial to any payout. These multipliers help in generating higher payouts varying from 280 to 2,888 times your stake which is a great deal higher than the original 28 to 280 times your stake which is originally offered.
About the Developers
 Tree of Riches is developed by Pragmatic Play, known best for their unique styles of UK online slot.
Similar Slots
As seen in popular games such as Monkey Warrior, similar to this game with extra exciting bonus rounds available.