Temple of Iris 2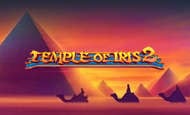 Register Here - View Promotions - UK Online Slots
Temple of Iris 2 by Eyecon for UK Online Slots
Eyecon's Temple Of Iris 2 is an Egyptian themed modern UK Online Slots with 5 reels and 3 rows, complete with a 95.4% return to player rating and a fixed payline pattern of 25 paylines to work with, making this slot a medium variance game to play. The bonus features of this game include a special Free Spins Bonus Feature and a Gamble Feature. You can play Temple of Iris 2 here at UKOnlineSlots.com, alongside over 700 other games. 
Overview
Temple Of Iris 2 is Eyecon's updated version of the popular Egyptian themed slot, consisting of 5 reels and 3 rows as a standard style game which is beginner friendly, and easy to play. This slot is one of many simplified slots developed by Eyecon, which are always a hit with beginner players and those looking for a relaxing, straightforward slot which is very fun and engaging to play. This game consists of a fair variance and just enough bonus features to enjoy, without making the game too fast paced or complex. In terms of variance, this game includes a nice 95.4% RTP rate which is bordering on the medium variance, falling into the standard variance strategy of 95-96% offered by all slots at this online casino. The payline pattern includes a stronger number of 25 ways to win, which is the higher number of betways offered in a basic 5 reel slot, which also includes a Win Both Ways game engine which allows for players to access more variations of symbols to form paylines - the overall aim of this slot. As well as this strong area of variance, this game includes special symbols and wilds which can contribute to the variance of this game - with free spins also available to boost your chances!
As in all online slots, Temple Of Iris 2 is complete with a betting range to manage the stakes placed by players in this slot. The betting range offers a minimum stake and a maximum stake, giving players limitations on how high or low they can place bets - this is a chance for developers to manage the maximum payouts offered in their slots. The betting range of this game is £0.10 to £50 per spin, which is a fair and reasonable betting range. This slot is not ideal for players who place higher stakes at this online casino, which is slightly restricting and excluding of certain betting styles used by players at this online slots casino. The style of this betting range is accommodating of the common stakes placed per spin, whilst offering one of the cheaper minimum stakes allowed across all games at this casino. However, the main limitation in this design is the maximum stake limit which is fairly low, which can impact the value of payouts available in this slot. 
Payouts and Symbols
Temple Of Iris 2 offers an egyptian themed design of 5x3 reels, full of themed symbols such as hieroglyphics card royals A to 10 and extra themed symbols such as pyramids. There is nothing about the design of this game that really stands out from other egyptian themed slots, as the visuals are fairly basic and standard. The design and graphics of this game are fairly basic, including a desert background and a simple reel filled with the usual egyptian style symbols found across all of these slots. The aim of this game is for paylines of 3 or more coordinating symbols - card royals offer the lower value symbols, whilst the higher value payouts are made from the pyramid scatter symbol.
Payouts in this game include a huge 9,500x your stake if you fill the reel with wild symbols - this can be hard to do, but can also offer £475,000 from just £50 if you manage it! There are other strong payouts in this slot including a 450x your stake win for 5 scatter symbols, which will also give you free spins to enjoy in the bonus feature of this game. A basic wild symbol payline can give you 2,000x your stake, offering £100,000 for a maximum stake win - which is another brilliant payout to take home. The payouts of this slot are very strong, which does add some quality to this Egyptian themed slot which is sure to entice players.
Bonus Rounds
Temple Of Iris 2 consists of two bonus additions, which can encourage paylines and offer the chance to multiply your payouts by 5x your win, if you are a risk taker. This game includes the Free Spins Bonus Round, which activates through the all important pyramid scatter symbol of the game, which will automatically begin and award you with a basic 15 free spins, which can be used to win the jackpot payouts up to 9,000x your stake. This feature is ideal for trying again for payouts, as it allows for far more spins to be enjoyed from a stake - this can even be accessed with a minimum stake if you are lucky, meaning you could enjoy this game for much longer with one small bet. This slot also includes a Gamble Feature, which will give you the option to gamble before every payout made. The gamble feature will take you to a split screen - you can choose to cancel the feature or gamble your payout to receive a payout 5x as high, offering a better win to take home. 
About the Developers
Temple Of Iris 2 is developed by Eyecon, known for their more relaxing, laidback slot designs which are ideal for beginners.
Similar Slots
For more high quality slots by Eyecon, be sure to try Shaman's Spirit for a similar design to this game, also featuring a special Free Spins Bonus Round, available to play here at UK Online Slots.