Reel King Mega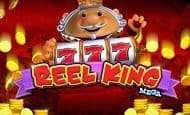 Register Here - View Promotions - UK Online Slots
Reel King Mega by Red Tiger Gaming for UK Online Slots
 Red Tiger's Reel King Mega is a regal themed UK online slot with a 96.13% Return to Player Rating as a medium variance game with 20 ways to win across 5 reels and 3 rows. This game offers various exciting bonus features including the King's Crown Feature, Reel King Feature and the use of colossal symbols. Here at UKOnlineSlots.com with over 700 UK Online Slots to try online.
Overview
 Reel King Mega is a classical, regal themed UK online slot with some quirky bonus features and imagery to enjoy. If you prefer the more traditional development style but want something extra special and fun, then you should try Reel King Mega by Red Tiger. This online slot offers a variety of special features, whilst being very simple to play with a standard format and betway pattern. This game offers medium variance, with a 96.13% RTP rating, sitting nicely above the usual expected rate for all slots - meaning, there is an above average chance of winning at this game, whilst the variance does not make things too easy. This online slot also features a nice payline pattern of 20 ways to win in total, which includes both directions and various combinations of symbols, to boost your chances of winning even more at this game.
To play this regal themed game, you need to place a stake minimum of £0.20 - this is very expected and one of the most common minimum stake requirements across all online slots, so there is nothing out of the ordinary here. In this game, you have plenty of freedom to place your stake up to the value of £200 per spin, giving you all of the room in the world to choose your own betting strategy and style. This game is simple, easy to follow and fair in variance, with a suitable betting range for essentially any player strategy, making it ideal for all players at this online slots casino.
Reel King Mega is based on the theme of a cartoon king, which takes centre stage of all symbols and design features of this game. This slot offers 5 reels and 3 rows, being small in size and very manageable for even beginner players. All of the symbols are made up of easy, colour coordinated symbols which make paylines much easier to notice. As well as the basic symbol, this slot offers crowns, kings and other regal themed icons to complete this regal theme. Much of this online slot is fairly traditional and simplified, with the odd modern feature found in the animated bonus features. You can play this popular slot on mobile and desktop devices at this online casino, to enjoy at home and on the go.
Payouts and Symbols
 Reel King Mega has a fairly traditional style, with a theme and design that would not look out of place in an older casino - many of the design features which Red Tiger have chosen are taken from traditional games. The symbols of this online slot vary, with each symbol offering a different payout. Each payout is calculated using a multiplier, which uses your original stake to generate your own payout. This means, if you bet lower you will receive smaller stakes and vice versa for higher bets, which is a fair strategy for all online slots, old and new.
In this game, you can win up to 500x your stake for a payline of the most valuable symbol. This payout is not great and there are certainly higher paying slots available to play. That being said, this jackpot can create a win of up to £100,000 - which is huge from even a stake of £200 at this online casino. These multiplier payouts are not large enough to benefit smaller stakes, so it is advised to choose this game if you are someone who prefers to play with bigger stakes. The payouts in the main game vary from 5x your stake for three blue symbols, 10x your stake for three yellow symbols, 25x your stake for three red symbols, and up to 125x your stake for a payline which includes a blank space. This unique colour coordinated payout system makes this game very easy to navigate and follow, which is suitable for those who prefer more simplified payout systems.
Bonus Rounds
 There are two bonus rounds in Reel King Mega to be aware of, aside from the usual use of wild symbols and scatters. The first bonus round is the King's Crown Feature, which is named this way to match the theme of this online slot. This feature is randomly activated after every win, when the crown symbol appears on your reel - randomly activated features certainly add fun and suspense to a slot. This bonus feature is simple, being that any symbol which the crown touches, will turn wild in the hope to boost your reel value and chance of a high jackpot payout.
Another bonus feature is the Reel King Feature, which is also activated at random when the reel turns gold. You will be taken to another set of 3 mini reels, which can be spun to offer extra chances at higher jackpot prizes. In this feature, you can win up to 500x your stake - it is essentially another way to win money aside from the main reel, and can offer a fun break from the main game.
About the Developers
 Reel King Mega is developed by Red Tiger Gaming, expert slot developers who certainly know their way around a hit online slot.
Similar Slots
If you have not heard of Red Tiger Gaming before, you have been living under a rock as these developers have produced endless hit UK online slots including the likes of Pirates' Plenty: Battle for Gold and Mystic Wheel, both similar to Reel King Mega in bonus features!