Lost Vegas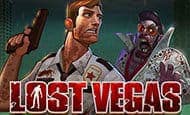 Register Here - View Promotions - UK Online Slots
Lost Vegas by Microgaming for UK Online Slots
Microgaming's Lost Vegas is a Las Vegas, horror themed UK Online Slots with 5 reels and 4 rows, boasting a huge payline pattern of 243 ways to win and a 96% return to player rating for medium variance. The bonus features in this creepy style slot include a Blackout Bonus Feature, two different 'modes' to play in, two Free Spins Bonus Rounds and a Stash Feature. Play the action-packed Lost Vegas here at UKOnlineSlots.com, or choose from over 750 of the latest games and to complete fun tasks to unlock Trophies, and we will add 500 free spins to your first deposit as a Welcome Offer for new players.
Overview
Lost Vegas may not be what it sounds like to you, this slot is very spooky and is complete with a zombie apocalypse theme - this certainly is not your average Las Vegas slot! This online slot UK boasts a brilliant development, following a concept of a battle between humans and zombies. Because of this style, this slot comes with two 'modes' - you can either be a zombie or a survivor, and this determines the bonus features you can access. This online slot boasts two free spins bonus features, the chance to win some great payouts and a dramatic effect around every corner to keep you on your toes at all times. Although this spooky, anticipating online slot may not be for everyone, it certainly is engaging!
Lost Vegas is hitting fair marks in all the right places of variance, making it a great online slot to play for any player at this online Slot Games casino. The RTP rating offered in this game is 96%, the standard mark of all variance which is the perfectly fair rate for volatility - this can be higher in other games, although not many other slots offer this level of excitement. The payline pattern of this game also adds a certain sense of appeal to the slot, offering 243 ways to win across the 5 reel slot - this covers every direction possible and is fixed into position throughout the game, ensuring that you are never too far away from a payout.
Lost Vegas has a rather original betting range, designed to balance out the payouts in this game and keep the overall stakes rather low. The range begins at £0.30 per spin, and ends at £45 per spin - this does give you some flexibility of choice, although there is a restriction of a lower betting limit on this slot. This betting range will not be an issue for most people, as it covers the most commonly placed bets to keep players happy. As well as this, the payouts in this game make it possible for smaller stakes to turnaround into bigger payouts, which is certainly a perk to any slot! 
Payouts and Symbols
Lost Vegas has a very unique concept and design, and is not your average UK online slot by any means. This game is based on a zombie apocalypse, where players choose a side of either a survivor or zombie, which will have an impact on your bonus features which are made available to you, but all payouts will remain the same. You can switch between these modes as you please throughout the game, which makes it more engaging and exciting. In this slot, the jackpot available to you is 1,000x your stake - which can boast a potential win of up to £30,000 if you're lucky. However, the bonus features of this game can prove to be very rewarding, offering up to 2,155x your stake which can offer some brilliant wins if you manage to reach it.  If you're looking to win such high payouts, you need a payline of 5 of the special wild symbols. This game uses a multiplier payout system, which will vary each payout depending on your stake placed in the slot. This system works to favour those who place larger bets, meaning if you take the risk of placing a higher stake of £30, then you will be rewarded with much higher returns than those who played with just £0.30 at this online slots casino. Overall, there are some strong payouts up for grabs in this slot if you can fight past the scary, bumpy theme of the game.
Lost Vegas is complete with a theme of zombie apocalypse, complete with lots of HD spooky visuals. The game consists of two sides, the side of the survivor and the side of the zombie - whichever you choose will adjust the symbols and visuals on your reel, which you can swap between at any time throughout the game. In UK online slot, expect lots of dark visuals and a creepy soundtrack which adds anticipation and drama to this dramatic themed slot. 
Bonus Rounds
Lost Vegas is full of exciting bonus features, which help to reinforce the zombie apocalypse theme. Firstly, you can choose between two modes - the 'survivor' or the 'zombie' mode. These both determine the bonus features you can access. There are two Free Spins Bonus Rounds, named after each mode. The survivor free spins bonus round removes all lower value symbols in a Stash Feature. The zombie free spins bonus round includes an Infection Feature, which turns all single wilds into fully stacked reels. There is also a Blackout Bonus Feature, which is activated at random. The reels are scanned in this feature to reveal high value symbols and add scatter symbols to your reels, which can help in triggering the other bonus features of this slot.
About the Developers
Lost Vegas is developed by Microgaming, considered the expert developers who are behind the production of many of the most popular games here at UK Online Slots casino across all mobile and desktop devices.
Similar Slots
If you loved this game, we recommend trying Cash of Kingdoms Online Slot, Dead or Alive for another zombie apocalypse style online slot with intriguing visuals, Diamond Empire UK Slot with extra bonus features, plenty of strong payouts and a similar concept.