Joker's Jewels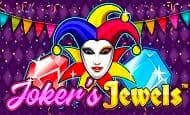 Register Here - View Promotions - UK Online Slots
Joker's Jewels by Pragmatic Play for UK Online Slots
 Pragmatic's Joker's Jewels is a classical yet modern UK online slot with a 5 reel design, offering medium variance with a 95% return to player rating and just 5 ways to win. The bonus features of this slot includes very little, with no special bonus rounds and simple wild modifiers to work with at this online casino. Play over 700 of the best UK Online Slots at UKOnlineSlots.com. 
Overview
 Joker's Jewels is a fairly traditional style UK online slot which is bare of modern features, offering a virtual trip back in time to more classical, straightforward casino times. If you want to enjoy a slot that features a similar style to old fashioned casino slots, with the same modern visuals as a new release, then you should try this game as it offers just that. You can win fairly big in the game, which is good considering the only point of focus is the actual payouts with no bonus features involved in this slot. This slot is medium variance with a return to player rate of 95%, which is not the best there is but still makes the medium mark of volatility - this is obviously less appealing than a slot of high variance, and considering there is nothing too unique or interesting about the design or bonuses in this game, you can probably find a similar slot elsewhere which offers a higher chance of winning.
This slot also features just 5 ways to win, which is significantly low for a 5 reel online slot - this means there are less ways for you to win at this online casino, meaning you may struggle in making a payline and receiving a cash payout. This slot also features a particularly unusual betting range - as this game requires a minimum bet of £0.50 which is much higher than the majority of mobile slots at this online casino, meaning that you must be willing to spend more money on stake per spin. Unusually, this slot also places a limit of £25 per spin on each stake which keeps the bets within a very restricting betting range. This design means that this slot is only suitable for players who intend to place smaller bets, but above the value of £0.50 per spin, which is a limited range. 
Joker's Jewels is designed with a very basic and traditional theme, centred on the card symbol joker - this theme is found across all symbols in the game with various symbols such as the jester himself, jester's shows, juggling lute and many more. The visuals of this online slot are strong and eye catching, all taken from traditional casino games with a modern development twist. This game has 5x3 reels so is fairly small and manageable in size, offering a simplified gameplay for all players. This slot is compatible with most mobile, tablet and desktop devices at this online casino.
Payouts and Symbols
 The entire concept of Joker's Jewels is based on the payouts and symbols, with no bonus features involved throughout the game to distract you. As a player of this slot, you are only concerned with the value of each symbol - as there are no bonus or scatter symbols in this game, every symbol serves the purpose of offering a cash payout. With no bonus features to work with, the symbol paylines are all you have to focus on which does make this game very simple to play and could be a great start for beginners, or anyone who does not like bonus rounds. This online slot has a rather appealing jackpot of 5,000 your stake - this can offer a highest potential payout of £125,000 which is huge for a basic stake or £25 at this online casino.
To win this incredible payout is not easy, as you have to fill the entire screen with the valuable jester symbol - this obviously does not come around often so you are very lucky if you witness this happen. As well as the jester, the other valuable symbol of this game is the crown symbol which offers up to 250 times your stake (for a payline of 5 symbols in total), which can offer up to £6,250 from a £25 stake for a lucky player of this game. The jester symbol in the main game can offer 20x your stake for 3 symbols, 200x your stake for 4 symbols and 1,000x your stake for 5 symbols - these are much more achievable than filling the reel with this symbol, which is the highest paying action of this online slot. The juggling lute symbol is also fairly valuable offering 10x your stake for a minimum payline and up to 200x your stake for the full payline of 5 of these matching symbols. The jester shoe symbol will offer 4x your stake for a payline or 3, 10x your stake for a payline of 4 and for a maximum payline you will win 40x your stake at this online casino.
Bonus Rounds
 There are no bonus features in Joker's Jewels which is a huge shame, as it does feel like there is something missing in this game. If you don't mind the lack of free spins and bonuses in this online slot, it will be enjoyable as all other aspects of this slot are great. The only special features which could be considered bonuses in this slot is the scatter and wild symbols, as they offer unique payouts - although there are no wild modifiers included as all symbols are basic.
About the Developers
 Joker's Jewels is developed by Pragmatic Play, creative developers who produce engaging slors which usually have much more bonus features to play with. Pragmatic Play do commonly introduce traditional casino symbols into their modern UK online slots, as we have seen in this game with the jester symbol.
Similar Slots
For more online slots similar to Joker's Jewels, try Joker Gems.