Ghost Slider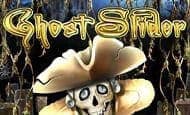 Register Here - View Promotions - UK Online Slots
Ghost Slider by Blueprint Gaming for UK Online Slots
Blueprint's Ghost Slider is a 5 reel, spooky themed UK Online Slots which features varying variance of a return to player rate which begins at 93.77% for low variance and can increase to 95.75%. The slot consists of a fixed betway pattern which includes 10 paylines available. There are various bonus features included in the game which are wild wins and a Free Spins Bonus Feature to play with. Here at UKOnlineSlots.com, you can play Ghost Slider and over 700 other games online. 
Overview
Ghost Slider is one of the more spooky slots at this online casino, which features a dark theme that will engage any player who likes this genre of online slot. This game is 5 reels and 3 rows, with all the usual design and payline features to make this game a pretty standard slot which is not entirely unique from the common slot at this casino. The variance of this game is slightly complex, as it can change throughout the game to increase your chances of winning when the bonus features are active - this is a great feature of this game which other slots rarely offer, giving this slot a nice advantage of varying variance for players to use.
The RTP rating begins at 93.77%, which is significantly low and would probably put most players off this game if there was not a chance to increase this. Through the bonus features, you can boost this return to player rating up to 95.75% which is much more medium and promising in likelihood of winning. Without this bonus feature active, the game is very challenging although comes into action when the variance is increased - you just need to land a payline in order to increase it. The payline pattern of this game is not brilliant, offering 10 ways to win across the game which are limited and minimal. Giving the slot is small, 10 ways to win covers the reel just enough but there are games which include double this number of paylines as the norm.
Ghost Slider includes a brilliant betting range, as one of the strongest attractions of this game for being so flexible and offering a unique betting strategy. Many online slots include a smaller maximum bet limit to control how much the player can win through multipliers, however this game allows players to place stakes as high as £500 per spin. This is a rarity at this online slots casino and is more than likely to be taken advantage of by players who use this higher stake strategy in their games. You can also use bets as low as £0.20 which provides players with plenty of room which offers a wide choice of betting styles, entirely up to the player.
Payouts and Symbols
Ghost Slider has a dark design, featuring a creepy theme of ghosts and ghouls. If this is your style of slot, you are likely to enjoy this game has it has lots to offer in terms of payouts and bonuses. The design of this game is pretty basic with the usual 5 reel format, making it easy to play for even the most beginner of players at this online slots casino. The slot is developed by Blueprint Gaming, so the visuals are up to a fairly high standard game though high quality development and HD symbols. The symbols included in this game are the lower value card royals A to 10 which are used across the majority of slots, and have been used since more old fashioned times of slot. These can payout as little as 1x your stake for a break even win.
There are also clocks, a spooky house and a chandelier to complete the horror house theme which are also low in value. For higher wins, be aware of the symbols such as the 3 different wild symbols which show three male characters, who are fairly spooky looking and represent an old fashioned painting which you would likely find in a horror house. The jackpot of the game is 500x your stake which is impressive when you consider the maximum stake limit of this game - with £500 available to place, you can win payouts up to £250,000 which is a massive win to gain even from a larger stake. The payouts of this game are more suited to players who will bet high, as the higher payouts will not be available to lower stakes.
Bonus Rounds
In Ghost Slider, there is one special bonus round working alongside the three wild symbols of the slot. This is the Free Spins Bonus Feature, which is the most commonly used of bonus features which gives players free spins which work as a second chance at winning - you can also use these to win the jackpot of 500x your stake. You need to somehow land 4 consecutive wins, which may be tricky. The feature will begin and your variance will increase up to 95.75%, which makes payouts slightly more likely to come your way, allowing you to get the most out of the feature. You will receive up to 50 free spins in this feature if you play it right, although there are no multipliers active during the round so the highest payout available is still the 500x your stake win.
About the Developers
Ghost Slider is developed by Blueprint Gaming, and features their famous HD graphics and quirky themes which can include anything from spooky ghosts to dancing leprechauns across their wide range of games.
Similar Slots
If you enjoyed this game and want to try more slots by these developers which are strong in theme and payout, try Beauty and The Beast for a slightly more light hearted online slot by Blueprint here at UK Online Slots casino across all compatible devices.