Gem Rocks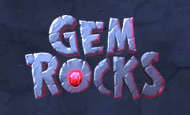 Register Here - View Promotions - UK Online Slots
Gem Rocks by Yggdrasil for UK Online Slots
Yggdrasil's Gem Rocks is a geology themed UK Online Slots with an advanced design of 6 reels full of stones and gems. The game is considered a medium variance online slot with a 96.3% return to player rating and an extremely generous number of 4,096 ways to win available throughout. There are special bonus features added which include Cascading Reels, 4x4 Cluster Symbols, a Drop Down Wins Feature and a special Gem Rock Feature. Play Gem Rocks and over 700 other games here at UKOnlineSlots.com. 
Overview
Gem Rocks is another beautifully designed, themed slot developed by Yggdrasil with a theme of gems and rocks, set in a rocky mountain and full of glowing jewels in HD graphics developed using the latest technology. This game is 6 reels in size, which is larger than the average online slot - this does make the game more complex to play as there are far more symbols and paylines used in the slot, which requires more advanced player ability and concentration. The game has a medium variance rating, which includes a strong RTP rating of 96.3% which details how there is an increased chance of winning in this game, in comparison to the average variance slot. This game features a payline pattern of 4,096 ways to win which is far more betways than you would expect. With just an extra reel of symbols added, this slot has new possibilities of offering plenty of betways which spread across every reel, row and direction possible to ensure a payline is never too far away. With an above average variance and 4,096 ways to win, things are looking fantastic for volatility in this online slot.
Gem Rocks features a fair betting range which begins with a small minimum stake of £0.25 and ends with a maximum stake allowance of £125 per spin. This range is wide and offers a generous maximum limit, which puts players in full control of choosing their original bet and overall strategy. The key to attracting many players to a slot is through offering a small minimum bet and a huge maximum stake limit, to ensure that no player or better is excluded from enjoying the game, which Yggdrasil always do well. This betting range also allows for an above average maximum stake, making this slot particularly appealing to anyone looking to bet with as high of a stake as possible, as this range exceeds the usual £100 limit offered by most online slots at this online casino. 
Payouts and Symbols
Gem Rocks is complete with a highly modern appearance, due to the crisp HD imagery developed by the best and latest technology such as HTML5 and JavaScript by Yggdrasil. We always expect strong visuals from these developers, and this game is particularly appealing due to the glowing symbols and strong theme. If you are a fan of geology or the popular gemstone theme used by many developers at this online casino, then you will love this slot as it offers some very enjoyable visuals using this theme in a unique way. The game is 6 reels in size, making it larger than most online slots - this is due to the need for space for the generous 4,096 ways to win which are available in this game. The slot consists of a range of symbols where you can expect gemstones and rocks spread across the reels.
For the highest value payout of 75x your stake, you need a payline of the star symbols - these really stand out as an important symbol of this game. The key to winning big in this slot is through consecutive wins, which is more possible through the extra bonus symbols of this game. There is up to 2,500x your stake available in this game, which can produce huge wins past £250,000 at this online slots casino - only if you play with the biggest stake allowed in the game. The payouts of this game vary greatly - they begin with very small jackpots in the main game but increase to higher wins in the bonus features. There certainly are higher paying slots available at this online casino, but the strong variance and use of bonus symbols make this game more appealing. 
Bonus Rounds
Gem Rocks consists of a few added bonus symbols, although there are no major bonus rounds included in the game. There is a Gem Rock Feature which is probably the most exciting feature of the game - this triggered through consecutive wins. In this feature, every 2 consecutive wins will add a 2X2 gem rock to your reel; 5 consecutive wins will add a 3X3  gem rock to your reel and 9 consecutive wins will add a huge 4X4 gem rock to your reel for a better chance at a jackpot win of up to 2,500x your stake in this game. There is also a Drop Down Wins Feature in this slot, which works throughout the entire game. This feature works for symbols to disappear after every win, which is designed to form winning streaks - this links well with the further Gem Rock Feature which is activated through the consecutive wins which this feature promotes. These bonus features are pretty simple, and there are no free spins bonuses available in the game, which does let the slot down slightly. That being said, these bonus features can be very helpful in this game as colossal symbols are a great help in making wild paylines for jackpot wins. 
About the Developers
Gem Rocks is developed by Yggdrasil - who always create visually appealing slots which has given them a reputation for well designed games at this online casino.
Similar Slots
For similar games to Gem Rocks also by Yggdrasil, try Easter Island which is another beautifully designed UK online slot with exciting features added, available to play here at UK Online Slots casino.