Fairytale Legends: Hansel and Gretel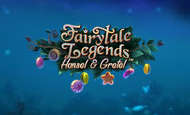 Register Here - View Promotions - UK Online Slots
Fairytale Legends: Hansel and Gretel

by NetEnt for UK Online Slots  
NetEnt's Fairytale Legends: Hansel & Gretel is a fairytale themed UK Online Slots of 5 reels and 3 HD rows, complete with medium variance from 10 fixed paylines and a super-high return to player rating of 96.71% at this online slots casino. This game also includes exciting bonus features such as a Stacked Wild Respin Feature, a Candy House Bonus Feature and a Free Spins Bonus Round. You can play the action-packed Fairytale Legends: Hansel and Gretel here at UKOnlineSlots.com, where we give new players 500 free spins Welcome Offer to use when they place their first deposit, which they can use across over 750 games online and to complete fun tasks to unlock Trophies. 
Overview
Fairytale Legends: Hansel and Gretel is based on the fairytale we have all heard, which follows two children into the woods where they meet an evil witch who tries to cook them. Although the tale may sound sinister, there is something rather upbeat about this online slot design, full of candy themed symbols and various bonus rounds to dive into. This game offers some seriously HD imagery, and tells a story alongside the exciting Slot Games. Through the many bonus features, you can find free spins, wild features and a prize pick feature for plenty of chances to win those payouts. The game offers some pretty high payouts, although nothing too spectacular. This game is designed for a huge range of players, of all betting styles, abilities and interests in a flexible online slot available to play on mobile and desktop devices at this online casino. 
Variance is very important in any online slot, as it indicates the likelihood of winning a payout from every game. Fairytale Legends: Hansel and Gretel boasts a very fair variance, which is ticking all of the boxes in what makes a slot appealing in terms of volatility. The RTP rating of this online slot is 96.71%, which is incredibly high for an online slot of this size and style. The payline pattern of this game offers 10 ways to win, which may not sound like much but this is completely justified and balanced out by the high RTP rating and various variance enhancing bonus features which this slot also offers.
As in any game, your stake placed in Fairytale Legends: Hansel and Gretel must fall between a certain betting range in order for developers to maintain the volume of payouts in this slot. The betting range used in this particular slot is £0.10 to £200 per spin, which is one of the most accessible and appealing betting ranges by a whole range of players. Not only does this online slot welcome much lower minimum stakes to make this game cheap to play, it also allows players to bet up to a large £200 per spin to give players all of the freedom in the world to use when placing stakes and choosing betting strategies at this online slots casino. Due to the multiplier system in this slot, this higher maximum stake limit allows players to unlock some huge payouts, if players are willing to take the risk of these larger stakes in order to reach these huge returns.
Payouts and Symbols
Fairytale Legends: Hansel and Gretel is very well put together, making it easy to play and quick to master. The payline pattern is very simple, so you are sure to quickly memorise this to make the gameplay even easier. This online slot consists of paylines of 2, 4 and 5 symbols which ascend in value of payout with every symbol that makes up the payline - for the maximum wins of the slot, be sure to form those symbols of 5. This game consists of rather basic payouts, with nothing too overwhelming. The jackpot of the entire game is 400 times your stake, which remains the same through the many bonus features of this slot. This can generate payouts up to £80,000, as the maximum potential outcome of this entire game - although, you need to place a stake of £200 per spin in order to win these payouts. Overall, the payouts available in this slot are not the highest, and there is a need for larger bets to be placed in order to make a worthwhile win. However, there is certainly something special about the bonus games and visuals of the slot which offer plenty of fun. 
Fairytale Legends: Hansel and Gretel is based on the theme of the fairytale of Hansel and Gretel, and is very well put together through the use of innovative development technology. The HD imagery of this game tells a story, complete with animations of the characters of the fairytale to complete video scenes in between bonus features. Throughout this slot, you will find various themed symbols such as candy, treasure and both Hansel and Gretel themselves.
Bonus Rounds
Fairytale Legends: Hansel and Gretel is complete with two bonus rounds, a Free Spins Bonus Feature and a Candy House Bonus Round. The Free Spins Bonus Feature can offer 10 to 20 free spins for players to use, in the hope of winning a payout from these free games. The Candy House Bonus Feature is a prize pick bonus round which players can win extra cash prizes with, giving players more than one way to win payouts in this slot. These two bonus features are designed to help players in making payouts, however there is no opportunity for players to increase the jackpot of this slot, as it remains at 400x your stake and up to £80,000 for the biggest betting players.
About the Developers
Fairytale Legends: Hansel and Gretel is developed by NetEnt, who have included many elements of magic and fairytale in a range of their slots, all featuring strong bonus rounds and payouts.
Similar Slots
For more excitement by NetEnt developers, you should try Elements: The Awakening Online Slot, Jack and the Beanstalk for another fairytale story game and Drive: Multiplier Mayhem UK Slot here at UK Online Slots casino.