Emerald Diamond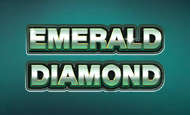 Register Here - View Promotions - UK Online Slots
Emerald Diamond by Red Tiger Gaming for UK Online Slots
Red Tiger's Emerald Diamond is a simple UK Online Slots with just 3 reels, 1 row and 1 payline to work with in a very basic game which uses a 96.03% return to player rating which gives players a medium variance and fair chance of winning at this game. This slot does include some bonus features such as high payouts, double wins, multiplier wilds and a Respin Bonus Feature to try. You can play Emerald Diamond here at UKOnlineSlots.com, home of over 700 of the latest games. 
Overview
You may instantly notice that Emerald Diamond is a very basic, small game which is unlike other online slots at this online casino. The game consists of a design of just 3x1 reels, which replicates the usual format found in old fashioned slots which can still be found in most real casinos. The game is designed to be as simple as possible, giving players a very clear scope of what the reel needs to do in order to win - there is just one payline available in this game, meaning if all symbols on your screen do not match, you do not win. This game is the perfect choice for beginner players, as it offers a very straightforward concept which is very easy to grasp - unlike some of the modern online slots which uses far too many symbols and paylines for a very complex design and concept.
Do not let the smaller reel and one singular payline fool you into thinking that this slot does not pay out often, as this game has a reasonable RTP rate of 96.03% which is actually higher than other larger games with more payline patterns. The RTP rating is very important as it shows how many payouts are handed out per stake made, offering a fair number of wins across all players of this game. This means that even thought here is just one way to in in this game, you still have a good chance of winning a payout. There are also special additions to this simple game which make payouts slightly easier, working to increase the volatility of the game and making a payout more likely in this medium variance slot. 
As in all online slots, Emerald Diamond uses a betting range which details how high and low your stake must be in order to play. Every slot comes with a minimum stake, which requires a minimum value of bet to be placed - in this game, the minimum stake needed to play is £0.20 which is the most common required stake for all games at this online casino. There is also a maximum bet limit, which players can not bet past to restrict the volume of bets and payouts offered in the game. The maximum stake limit of this slot is £60 per spin, which is much lower than your average online slot but still offers the chance for players to place a fairly high stake at this online slots casino. This game includes a small, but slightly welcoming betting range as it offers players some free room to place their stakes whilst placing a fair limit on bets for players to enjoy some risk free, slot fun. 
Payouts and Symbols
Emerald Diamond is designed to appear as a very simple, traditional looking slot complete with a neutral theme and a very small reel design. If you enjoy a traditional slot which replicates a real slot machine, then look no further than this game as Red Tiger Gaming have done an excellent job in bring some classical casino style to this modern online casino. The reel is just 3 reels wide and 1 row tall, offering just 3 symbols on your screen at one time - the aim of this game is for all symbols to match, making it very obvious right away whether or not you have won the spin. This game is as simple as slots can possibly be, making it more than ideal for beginner players at this online slots casino. The jackpot of this game includes the lucky seven symbol, which pays out 1,000x your stake. Other payouts include 80x and 160x your stake for the diamond symbol, with multipliers available in progressive form to boost up these payouts even more. The payouts of this game are pretty strong, and can create some huge wins in this game. 
Bonus Rounds
Emerald Diamond is most known for being small, simple and full of high payouts. The common payouts of this game are 80, 160 and 1,000 times your stake which certainly are not the worst payouts we have ever seen at this online casino. The bonus features of this game also include progressive multipliers such as 2x, 3x, and 5x which can boost these payouts even more to offer payouts up to 5,000x your stake. There is also a very exciting Respin Feature which locks the valuable wild symbols into position before spinning the reel to encourage a wild jackpot win - this is especially helpful if you already have two wilds on your screen, as a respin and locked wilds will more than likely generate a winning high value payline in this medium variance slot. The bonus features of this game are very simple, to complement the overall simplicity of this slot - you can also win some great payouts through these features. 
About the Developers
Emerald Diamond is developed by Red Tiger Gaming, as one of their common classical slots which are very unique to all other modern slots by using more traditional ways of gameplay.
Similar Slots
If you love this style of slot and want to explore more similar games by these developers, try Reel King Mega here at UK Online Slots casino across all compatible mobile, tablet and desktop devices - expect some brilliant bonuses and  classical style reel in this game!