Down the Pub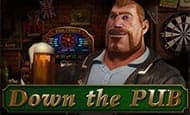 Register Here - View Promotions - UK Online Slots
Down the Pub by Playson for UK Online Slots
Playson's Down The Pub is a British pub themed UK Online Slots with 5 reels and 3 themed rows, complete with a medium variance return to player rating of 96.4% which is a stronger volatility, and a payline pattern of 15 ways to win at this online slots casino. This slot includes special bonus features such as wild multipliers, a Bonus Game and some Free Spins Bonus Feature. Here at UKOnlineSlots.com, you can play Down The Pub or over 700 of the latest games and to complete fun tasks to unlock Trophies, as well as a welcome offer which new players can use to gain 500 Free Spins on their first deposit.
Overview
Down The Pub is based on the theme of a British pub, a very unique design which you are unlikely to find in any other game due to its originality. The game is very modern in design and is complete with some of the best graphics seen at this online casino, complete with HD animated characters and video effects throughout the bonus features. This game includes 5 reels and 3 rows, which maintains a simple design whilst offering very advanced visuals. The RTP rating of this game is 96.4%, which is above average volatility for any game at this online Slot Games casino. Variance ratings directly influence the likelihood of winning, which is essentially the aim of any online slot.  It's great to know that this game offers an above average variance, meaning there is a good chance of winning at this game for every bet you place. The payline pattern of this game consists of 15 ways to win, which is slightly below the average number of paylines which we expect from a game of this size and style. Despite the lower number of ways to win, this game still has a very strong RTP rating - which balances this limitation out and still offers a medium to high variance and a fair chance of receiving a cash payout. 
Down The Pub features a smaller betting range than most online slots, flexible to all betting strategies and player preferences. The minimum stake needed for this game is £0.30, which is slightly above the average cost for online slots at this casino. However, if you want to explore some great payouts and bonus rewards, this higher minimum requirement is worth it - and chances are, you are likely to bet above this limit anyway as the average player. The maximum stake limit of this game is £75, which gives you a fair amount of freedom when placing stakes. A whole range of strategies can be used here, although if you want to place as low of a bet as possible then this game is less suitable. Betting strategies are important in all games as your original stake determines the outcome of every payout, as multiplier payouts are used in this game. This design means the higher the bet, the higher the payout and vice versa for the lower stakes used in this game. 
Payouts and Symbols
Down The Pub is based on British culture, set in a HD cartoon pub full of animated characters and fun design features. This game is fairly simple in design with just 5 reels and 3 rows, although the characters and animated effects make this game slightly more complex. To win a payout, or bonus reward, in this game you need to create a payline of 3, 4 or 5 matching symbols - this depends entirely on how the symbols land after every reel spin, and is entirely down to luck. However, there are certain special symbols and bonus features in the slot which can help you in creating paylines. For example, locked and sticky Wilds will encourage high value payouts and free spins can help you in making your variance increase by boosting your chance of making a winning payline. The jackpot of this slot is 1,000x your stake - this can offer up to £75,000 for a small bet. This payout gives this slot a huge appeal due to this jackpot, as it offers the chance to win a high value win through a simple payline. As well as these strong payouts, you have access to multipliers varying from 3x to 10x your win, which can boost this jackpot up to new highs of 3,000 to 10,000 times your stake. The payouts available in this slot can offer some brilliant returns, although these are more rare - there are basic payouts available in this slot which include 2x your stake in the main game. 
Bonus Rounds
Down The Pub offers some bonus symbols and features, which are included to boost the variance and offer very high jackpot payouts up to 10,000x your stake at this online slots casino - this is a huge difference to the usual jackpot of 1,000x your stake which is usually the maximum win of the main game. To help you reach these payouts, your best option is the  Free Spins Bonus Feature as it offers the chance to play the game for free with up to 70 free spins available, and the chance to boost your winnings with multipliers up to 3x your payout available. This game also boasts a special Bonus Round, activated through spelling out the word BONUS through the letter labelled beer mat symbols of the game. The bonus feature will begin, showing a classic slot machine which you then spin to reveal jackpots up to 5x - this is designed to appear as a real slot machine to match the pub theme. 
About the Developers
Down The Pub is developed by Playson, who make their slots very accessible through simple design features and a wider betting range.
Similar Slots
If you enjoyed this slot and want to try more Playson online slots, be sure to try Chicago Gangsters Online Slot, John Hunter and the Aztec Treasures and Rise of Egypt UK Slot for more action-packed bonus features here at UK Online Slots casino on mobile or desktop devices.