DJ Wild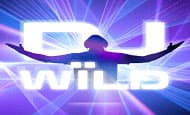 Register Here - View Promotions - UK Online Slots
DJ Wild by Elk Studios for UK Online Slots
Elk Studios' DJ Wild is a musical UK Online Slots which features 5 neon reels and 3 simple rows, offering a medium variance through a nice return to player rating of 96.3% and a payline pattern which boasts 20 ways to win and use of the Win Both Ways game design. This exciting game also includes various wild modifiers such as Sticky Wilds, Expanding Wilds and a Jackpot Wild Feature. Play DJ Wild here at UKOnlineSlots.com, or choose from over 750 games available across most devices. If you are a new player joining us, you can receive 500 Free Spins on your first deposit as part of our welcome offer and to complete fun tasks to unlock Trophies.
Overview
DJ Wild is the perfect slot for all electronic music lovers, with an upbeat and hypnotic design complete with musical soundtrack. A very modern game release, this slot by Elk Studios is very unique in comparison to all other Slot Games  - there are no slots with this same theme, design or bonus features. This game offers something new and exciting in regards to bonus features, focusing on adding plenty of wild symbols yet leaving out some of the commonly used bonus features. This game is fair, and medium in variance with a flexible betting range to allow a range of players to try out this game. If you are up for a dance and something much more upbeat than your traditional game, then you need to try this online slot.  
DJ Wild not only offers a great theme and modern design, this game also features a fair chance of winning through medium variance. In all online slots, variance is made up from a RTP rating and a payline pattern, which inform the chances of winning a payout for every stake and the number of ways that these paylines can be made. The RTP rating of this slot is 96.3%, which is one of the stronger rates of variance at this online casino - although this falls into the medium variance category, this slot borders on high variance. The payline pattern is also very important as it offers the ways in which symbols need to land to create winning payouts, meaning the more betways the better. The fixed payline pattern of this game offers 20 ways to win, which is fixed throughout the game. The fair variance rating and payline pattern are both strong in terms of variance, so you can play this game with confidence and hope of a win.
DJ Wild features a very flexible betting range, which is perfect for all strategies from keeping your stake as low as possible, to opting for much larger bets in this game. In order to access the game, your stake must be higher than £0.25 - this is a very common requirement for all slots and all betting ranges, offering players the chance to play with smaller bets in this game. There is also the option to place bets up to £100 in this slot, which gives players the chance to try out a higher stake strategy in this slot. There is plenty of room for players to explore in this range, for a huge range of strategies and betting styles to be used here. 
Payouts and Symbols
DJ Wild is as simple as any other game, despite the very modern and quirky design of this slot. This game is as simple as placing your stakes, spinning the reel and hoping for paylines of 3 or more of the same symbol to land in an adjacent payline. Each of the symbols have its own unique value of payout. In the best case scenario, you can win up to 1,700 times your stake in this slot - which can offer up to £170,000 if you are lucky enough to get this payout whilst playing with the highest stake of this slot. There is also a fairly nice payout of 500 times your stake, in exchange for a payline of 5 wild symbols. These payouts are pretty strong, and can create some very high payouts for the right bets. 
DJ WIld is based on a nightlife theme, complete with an electronic music soundtrack, flashing lights and neon symbols to create the hypnotic and exciting reel theme. This game is developed by Elk Studios, who have done a brilliant job in developing something different and interesting. With 5 reels and 3 rows, this game is very simple and easy to understand. There is something very upbeat and energetic about this slot design, due to the musical soundtrack, flashing lights and overall theme of the game. 
Bonus Rounds
DJ Wild has various bonus features across the game, which have a huge focus on wild modifiers throughout the slot - these are very helpful in generating higher payouts, and offering extra high chances at making a wild win. Using these wild features, you can access the highest payouts of the slot which include 500x and 1,700x your stake in this game. The features include the use of Expanding Wild Symbols, which can fill the entire vertical reel to boost your chances of the wild payouts of the game. This slot also uses Sticky Wild Symbols, which lock into position throughout various spins in the chance of removing the pointless basic symbols to replace them with more wild symbols, which can also encourage a wild win of up to 1,700x your stake. 
About the Developers
DJ Wild is developed by Elk Studios, who always create very quirky and interactive slots with upbeat themes, as we have seen in this exciting slot. Elk Studios have created a huge range of interactive slots, all of which tend to include at least one wild modifier to enhance the main game.
Similar Slots
If you loved this game, be sure to try more games  by Elk Studios such as Birthday Online Slot, the TV show themed Hit It Big, one of the most popular online slots or Champion's Goal UK Slot by these developers here at UK Online Slots casino.