Cup Carnaval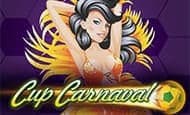 Register Here - View Promotions - UK Online Slots
Cup Carnaval by Eyecon for UK Online Slots
Eyecon's Cup Carnaval is a fiesta themed UK Online Slots with a simple design of 5 reels and 3 rows, a medium variance through a 94.9% return to player rating and a generously formatted payline pattern of 25 ways to win in total. This football themed game also boasts special features including the likes of a Free Games Bonus Round and the use of Substituting Wild Symbols. Play Cup Carnaval here at UKOnlineSlots.com to access over 750 of the latest online Slot Games, and a welcome offer which will give new players 500 Free Spins to use on their first deposit as a new player and to complete fun tasks to unlock Trophies. 
Overview
Cup Carnaval is a very upbeat, fiesta and football themed online slot developed by the popular slot creators at Eyecon. This game is simple, cheerful and full of nice surprises when it comes to payouts and jackpot wins. Like all games by these developers, you can expect to abide by a limited betting range which restricts higher stakes, but also be rewarded with very high multiplier payouts which can take smaller bets and still offer big money. If you are a fan of football and free spins, this slot is a great choice - complete with the latest modern development and visuals as a modern online slot. Whether you are beginner or advanced, you will understand this slot due to a simple design and concept overall - as long as you are a fan of football and fiesta, you can enjoy this game.
Cup Carnaval offers the popularly used smaller betting range, which we now automatically expect from any game developed by Eyecon. The minimum required stake of this slot is just £0.25, which is the usual access stake required by all games, so there is nothing too expensive about giving this slot a try. The maximum stake limit is however, very low - especially in comparison to some other games at this online slots casino. Your stake must be above this minimum stake, but cannot exceed £12.50 per spin. This betting range does not offer much room to play with, meaning your strategy must fit into this range by being on the smaller scale of stakes. Many fans of Eyecon games already use this betting style, although many games such as this slot exclude higher player strategies through a restricting betting range, like this one. Do not let this fool you, as there are still some excellent payouts to be won here - even from the smaller scale stakes which are accepted. 
Payouts and Symbols
With a theme of football and fiesta, Cup Carnaval is very simple and straightforward to play. You will place your stakes at your own choice and then push a button for the reel to spin, if symbols of 3-5 land across one of the 25 available paylines then you will receive a payout - these vary for each symbol and stake. Sometimes, if you make a payline of bonus or wild symbols in this game, then you can activate special bonus features too. All of the symbols of this slot pay out a reasonable sum, which is needed to create good payouts considering the smaller betting limits of this game. If you land a payline of the goalie character symbol, you can see yourself a win up to 1,000x your stake for 5 symbols. The football horn symbol can offer an even higher payout of 2,000x your stake. However, the maximum jackpot of this slot is made through the firework symbols which can offer up to 3,000x your stake for a payline. Other payouts in this slot can include 250x your stake, which is made available in the bonus features of the game. This slot is known for these strong, higher than average payouts and is one of the many reasons why so many players love this slot. 
Cup Carnaval is based on a football cup match, complete with fireworks, dancers and lost of fiesta. This game is very upbeat and interactive, with a soundtrack and animated visuals surrounding the reel to really bring this theme alive. All of the symbols across the reel, apart from the usual card royals, are related to football and include horns, footballers and goalies. This slot consists of 5x3 reels across the grid and is very easy to play and manage, even for beginner slot players.
Bonus Rounds
Cup Carnaval consists of one main bonus round, with the use of bonus wild symbols also available. The main bonus feature of this slot is the Free Games Feature, which is activated through the dancing woman scatter symbol, a fitting choice for the fiesta theme of this slot. When you activate the Free Games Feature, you will win a payout up to 300 times your stake before the feature even begins, which is a nice treat. After the payout is made, you will receive up to 25 free spins depending on how many scatter symbols made the payline. Don't worry if you run out, as you can win more free spins with the chance to re-activate the feature up to 15 times through more paylines of dancing women scatter symbols. This can lead to a great number of free spins to enjoy, which are used to help you win that 3,000x your stake jackpot which is up for grabs in this action-packed online slot.
About the Developers
Cup Carnaval is developed by Eyecon, known for their simple slot designs with smaller scale betting ranges, ideal choices for beginner players here at UK Online Slots casino.
Similar Slots
If you enjoyed this slot and want to try more football themed games, we recommend giving Champion's Goal Online Slot a try for more football themed slot mayhem - this game features a more modern and slightly more mature version of this slot, which also boasts the chance to win free spins and fairly high payouts, playable here at this online slots casino across a range of mobile, tablet and desktop devices.