Call of the Colosseum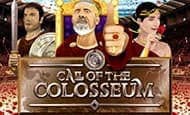 Register Here - View Promotions - UK Online Slots
Call of the Colosseum by NextGen for UK Online Slots
Next Gen's Call Of The Colosseum is a 5 reel, 3 row roman themed UK Online Slots with a 95.3% return to player rate and a fixed betway format of 25 generous paylines for a medium variance game overall. This exciting slot also includes special bonus is features such a wild symbol, a Free Games Feature and double multipliers too. Here at UKOnlineSlots.com, you can play Call Of The Colosseum as well as over 700 other online slots. 
Overview
Call Of The Colosseum is an Ancient Rome themed online slot, which is developed by Next Gen Gaming. This game consists of a simple design, a fair variance and just enough bonus features to keep the game interesting without making it too complex - all of these features make this game ideal for beginner players, whilst offering strong enough payouts and bonuses that are sure to attract advanced players too. This game offers a medium variance, which makes it one of the fairer choices of slot to play when it comes to winning a payout or winning some free spins. Variance ratings detail how likely to are to win a payout, meaning this game offers the incentive of potentially winning some money back as opposed to an impossibly difficult game. The RTP rating of this slot is 95.3%, which is fairly standard for all online slots at this casino which makes it a normal rate of variance. The payline pattern of this game is also particularly generous, offering 25 ways to win in total for an even higher chance of winning for players to enjoy - these paylines are your key to payouts, jackpots and bonus features, so it is great to know there are plenty available.
Call Of The Colosseum can be played by a stake of £0.25 as the minimum bet required for this game, which is one of the usual and expected requirements for all slots at this online casino. The maximum stake limit of this game is £50 per spin, which allows players to play with a slightly higher stake but without placing too risky bets. This betting range is likely to include the most common stakes placed at this online casino, despite it being less inclusive than other games available to play at this online casino. Despite what you may infer from this betting range, you can still win some high payouts in this slot, although you probably need to place stakes towards the maximum limit. This game balances out the lower stake limit with some higher multipliers, which otherwise would not be available if the betting range was higher. So, if you don't mind placing Lower bets whilst still being in with a chance to win bigger payouts, this game can offer that.
Payouts and Symbols
Call Of The Colosseum is designed to be an Ancient Rome themed online slot, which includes a brilliant design of the colosseum surrounding the reel to give this game a cultural feel. This game is based on a historic era, featuring some culturally inspired symbols such as chariots, shields and helmets to create the full Ancient Rome theme. This slot features 5 reels and 3 rows, making it simple to follow and showing just 15 symbols at a time - this symbol set is completely random, and the aim of this slot is to hope for 3 or more of these symbols to be the same across one of the many 25 paylines available. This slot consists of a Win Both ways game engine, which offers more variations of symbols to qualify for payouts than other slots that do not use this design.
Each payout is entirely unique, and will be higher for higher stakes as well as lower for lower stakes - which makes your strategy extra important in this game. The jackpot which can be won is 5,000x your stake, which makes the lower betting range of this slot suddenly more appealing as you can win £250,000 from a stake of £50 which is a huge difference to win as a payout from a smaller bet. These payouts can increase even more in this slot, as this game uses the brilliant multiplier features which include 2x for double payouts and 3x for treble payouts - these can seriously increase any payout made, especially the higher ones which can offer up to 15,000x your stake as the new jackpot of the game.
Bonus Rounds
Call Of The Colosseum features one main bonus feature which is the main focus of this game as not only does it increase your variance per stake, it also offers the chance to double or even treble your payouts through the multiple feature. This feature is the Free Spins Bonus Round, which is activated via the Roman emperors wild symbols, which can land on any of your 5 reels - you need a payline of at least 3 of these symbols to access this feature, which should not be too hard to do given the many paylines available. This feature can hand out 10 free spins as a maximum, as well as a payout up to 100x your stake just for activating this feature. This feature can also offer access to the 2x and 3x multipliers which offer much higher payouts in this feature than what is available in the main game, making this the feature all players want to activate when playing this slot. 
About the Developers
Call Of The Colosseum is developed by Next Gen Gaming, who have also created exciting slots.
Similar Slots
Similar slots such as Foxin Twins, which is a fun fox themed game with a cartoon design which offers a more light hearted and fun theme, available to play here at UK Online Slots casino across all devices from mobile to desktop and even tablet formats.