Big Kahuna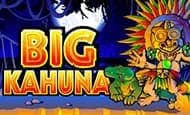 Register Here - View Promotions - UK Online Slots
Big Kahuna by Microgaming for UK Online Slots
Microgaming's Big Kahuna is a Hawaiian themed UK online slot with medium variance and a 96.16% return to player rate, offering a 5 reel by 3 row design with 9 ways to win in the fixed payline pattern. The bonus features of this game offer a Volcano Bonus Round and Mask Bonus Round, with Prize Pick features available. Play Big Kahuna here at UKOnlineSlots.com, or browse over 700 UK Online Slots.
Overview
Big Kahuna is a Hawaiian themed online slot which offers a very colourful gameplay, complete with very unique bonus rounds which are also themed to create a very original game. Microgaming have created this slot to welcome all players with a simple design, but have also included various unique bonus rounds to make this slot different from all other slots. In terms of variance, this game is very appealing as it offers a stronger volatility than most other games at this online slots casino. With the average RTP rate being around 95-95%, this slot has an advantage of being above this average mark of variance with a 96.16% RTP - this offers medium to high variance which signifies a fair to good chance of winning at this slot.
With a strong RTP, there is a fixed payline pattern which works with this to offer the variations in which symbols need to land in order to receive a payout or access a bonus feature of this game. There are 9 ways to win available to use, which is not fantastic for a slot of this size but this does not pose as much of an issue due to the already high variance of this game. Overall, the variance of this slot looks strong however the betway pattern could be improved as there are certain usually common paylines which are unavailable in this slot, which can make winning a little trickier.
The betting range or Big Kahuna is fairly inclusive and wide for all players to enjoy this slot, although the design of this range is fairly unique. Firstly, the minimum stake for this slot is £0.05 which is very low, making this slot much more affordable to play than most online slots - this is one of the cheapest slots offered by these developers which will certainly give this game some appeal to certain players. The maximum stake limit of this slot is £90 per spin, which is high enough to accommodate most betting strategies at this online casino. Although this is slightly lower than usual betting ranges at this casino, this is still very wide and offers plenty of freedom for players to utilise when it comes to placing their original stake.
Payouts and Symbols
All of the symbols in Big Kahuna are Hawaiian themed and feature lots of colour and fun. The overall design of this slot is relatively cheerful and engaging, complete with a unique theme which is rarely used by developers. The design of this slot is 5x3 reels and has a basic payline pattern or 9 ways to win, which makes playing this game fairly easy to understand for a beginner friendly online slot. The aim of this Hawaiian slot is to make a payline of 3, 4 or 5 coordinating symbols across a reel to win a cash payout, and sometimes even access to special bonus features. With 9 paylines available, making these paylines May be slightly harder than other games with more betways, although this slot still offers medium to high variance meaning payouts can be made fairly.
This slot offers a maximum jackpot of 8,000x your stake which can produce fairly high payouts from even the smaller scale of stakes. With this in mind, you can win up to £720,000 from a £90 stake which certainly is not bad for a bet of this size. There are also various Prize Pick features available which offer fairly strong payouts too - meaning there are multiple ways to win money in this slot. Your original stake matters in this slot as each payout will be in the form of a multiplier, this means every bet will determine a unique payout - if you play with the higher stakes in this game  you will win the higher bets, and vice versa for lower bets.
Bonus Rounds
If you are a fan of prize pick bonus rounds, you are in for a real treat with Big Kahuna. This online slot offers two variations of the commonly used prize pick feature, which offers three different reels to win money on to keep players on their toes and engaged at all times. Bonus rounds can be lots of fun to play, and the second chance to win cash payouts. These prize pick features offer guaranteed wins meaning if activated, you will walk away with a payout - some can be much higher than others. The Volcano Bonus Round is activated through 3-5 of the volcano symbols across one of the betways. You will be taken to a new, volcano reel where you will drop various items of fruit into the volcano. Whichever fruit you are left with, you will win - each fruit resembles a unique multiplier payout. The Mask bonus round is similar but activated through the mask symbol for a payline of 3-5 matching symbols. This feature is another prize pick feature in which you can collect payouts, until the 'collect' button is pressed for all of the calculated payouts to be offered out to you.
About the Developers
Microgaming are the developers behind Big Kahuna, and have also created similar UK online slots which offer the same high quality visuals and well thought out bonus rounds.
Similar Slots
For a similar slot to Big Kahuna, try Aloha! Which is another Hawaiian themed game which can also be played across all mobile, tablet and desktop devices here at UK Online Slots casino.