Archangels: Salvation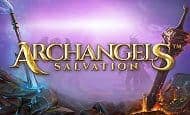 Register Here - View Promotions - UK Online Slots
Archangels: Salvation by NetEnt for UK Online Slots
NetEnt's Archangels Salvation is a 6 reel, 4 row UK Online Slots with a 96.08% return to player rating and a fantastic fixed payline pattern which offers 100 ways to win and a medium to high volatility. The bonus features of this angelic online slot include 2x2 colossal symbols, hot spot areas, stacked wild symbols, a Free Spins Bonus Round, a Heaven Feature and a Hell Feature to complete the theme. You can play Archangels Salvation here at UKOnlineSlots.com and access over 700 games online. 
Overview
Archangels Salvation is a very strong slot in every aspect, from variance to bonus features and theme. Based on the concept of heaven and hell, this angel-filled online slot is slightly more fast paced and upbeat than your average basic game - this is due to the larger 6 reel display and more bonus symbols in circulation than you may have expected. As well as all of this, this game boasts medium to high variance meaning there is a nice likelihood of winning a payout in this game, or landing paylines or bonus symbols to access exclusive bonus rounds. The RTP rate of this game is 96.08% which is an above average rating at this online slots casino, which really can make all of the difference when it comes to chance of winning. The payline pattern of this game is easily one of the most appealing features of this entire themed slot, with 100 fixed betways available in a whole range of directions and reel placements to offer plenty, if not too many, ways to win or access bonus rounds in this slot. 
Archangels Salvation's betting range begins at a minimum of £0.40 per spin, a stake you may think to be slightly more expensive when you compare this game to other slots of this style. This higher expense is worth it in this slot, if you are looking for stronger payline patterns and some excellent bonus features and rewards in this game. The maximum stake limit of this slot is £200 per spin, which is much higher than the usual limit set by other developers. This wide betting range is common of NetEnt games, which makes their slots more appealing to players who want to either bet higher for higher payouts or enjoy a wide range of freedom when choosing their stakes. 
Payouts and Symbols
Archangels Salvation has a very consistent theme, based on heaven, hell, angels and demons - the graphics of this slot are excellent and the theme is very engaging due to consistency across the symbols and bonus rounds through HD visuals and animation. The design of this slot is larger than the basic format, with 6x4 rows on offer to make way for extra high paylines and ways to win. This design may appeal more to those looking for a fast paced and complex gameplay, as there certainly are more simplified games available at this online casino.
Each of the symbols found across these hectic reels include the standard card symbols heart, spade, club and diamond to add a touch of traditional casino lower value symbols to the game. Matching with the theme, you will also find angels, demons, skulls, lions and helmets to create a battle scene across the reel. The jackpot symbol of this slot offers 150x your stake as the highest paying payline of the game, although pushes up to 375x your stake are also on offer here. The trick to the higher value payouts is in the wild symbols, which luckily come in colossal form up to 2x2 of your reel. The highest possible payout of this game is £75,000 which surely is a fantastic return to take away from an online slot - although you must be expected to place the maximum stake to win this game.
Bonus Rounds
Archangels Salvation comes with plenty of bonus symbols and features, which adds to the overall fast paced battle concept of this game. Firstly, this game offers extra special symbols such as colossal wild symbols 2x2 which can come into action at any time to assist in creating a wild payline for the extra high jackpot wins of this slot. These symbols come into significance through the Heaven Feature and Hell Feature, which activate the hot spots of the slot - in the heaven feature, 2x2 wild symbols will be added to the top half of the reel and the opposite for the Hell feature to coordinate with the theme and concept of this slot. As well as this unique bonus feature, the game also uses a Free Spins Bonus Round which can be activated whenever players manage to land a lucky payline or 3, 4 or 5 of the scatter symbols.
You will receive 10-25 free spins to enjoy, depending on how many scatter symbols have formed in the payline you have made, with 6 scatter symbols offering the maximum of 25 free spins - which can be used to help players make a winning jackpot of up to £75,000. These bonus features are brilliant, mainly because they are so well designed to complement the Heaven and Hell theme of this game. Overall, there are plenty of twists and turns in this game which can particularly assist in creating high value paylines or special bonus rewards, however these bonus features do not assist in making bigger payouts. With all of these bonus rounds in consideration, there is still just a maximum payout of 375x your stake available in this game - if this was higher, this would easily be one of the strongest of NetEnt slots.
About the Developers
Archangel Salvation is developed by NetEnt, who have also formed many popular UK online slots with similar features.
Similar Slots
Similar slots such as Planet Of The Apes, available are UK Online Slots casino on all mobile, desktop and tablet devices.