Ancient Egypt Classic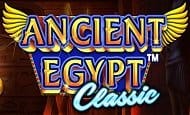 Register Here - View Promotions - UK Online Slots
Ancient Egypt Classic by Pragmatic Play for UK Online Slots
Pragmatic Play's Ancient Egypt Classic is a 5 reel and 3 row Egyptian themed UK Online Slots with a medium to high variance from a fixed payline pattern of 10 betways in total, and a Return to Player rating of 96.47% at this online slots casino. The bonus features of this game include a very simple free spins bonus feature, with some wild and scatter symbols also in circulation throughout the game. Play Ancient Egypt Classic here at UKOnlineSlots.com across over 700 of the best and latest online slots across all devices.
Overview
Egyptian themed slots have long been one of the most popular themes of slot development, which does put slots like Ancient Egypt Classic into a competition of which slot is best. This online slot may be a contender for one of the more simple, yet rewarding slots of this theme with a basic format of 5 reels and just one bonus round to work with. This game is complete with high quality development by Pragmatic Play, who always design their games to be HD and full of colour and character. In regards to variance, this game is medium to high variance with a great RTP rating of 96.47% to use - this is a higher than average rating for a slot to have, which is only good news for players as it provides the increased chance of winning at this game. The slot also consists of 25 ways to win, which  are spread across a fixed betway pattern - this includes left and right directions which qualify for paylines which helps players out when it comes to matching those symbols. There is also a special Free Spins Feature used in this game which can increase variance by making your stake last longer and offering extra chances to win, which can be very useful. However, there are no sticky Wilds or modifiers in this game which are commonly used to boost variance, although this slot justifies this with a higher variance than most other Egyptian themed games at this online slots casino. 
Ancient Egypt Classic is potentially one of the most commonly known Egyptian themed slots, as it features the memorable name which most players know of at this online casino. This game is also known for having a very simple design and format, with limited bonus features used. The design of the betting range of this slot is also very simple, designed for perhaps more beginner players to enjoy this game. The betting range is £0.10 to £50 per spin, which does give some betting freedom without letting players bet too high to minimise risk overall. The smaller betting limit is also included to balance out the available payouts in this game, as there are some strong payouts available which do not need high volume stakes in order to generate strong payouts - this is one of the many reasons why this game is so appealing, as you have just the right amount of betting freedom with an appropriate stake limit set in place to maintain balance. 
Payouts and Symbols
Ancient Egypt Classic is very well designed and includes some crisp, clean imagery due to it being a more modern release by Pragmatic Play. The design is very simple and clear, with 5 clearly spaces reels and 3 smaller rows to create a clear navigation of the simple payline pattern used. The game consists of a whole selection of symbols from Egyptian style hieroglyphics card royals for offer Lower payouts, as well as a Cleopatra and eye of Horus symbol. The symbols which are worth creating a payline of include the eye or Horus, which will pay out 75 times your stake for a payline - this can offer up to £3,750 which is a fairly strong win. The Anubis symbol will pay out a higher value of up to 200 times your stake for a prize of £10,000 from a bet as low as £50! The Cleopatra symbol will pay put up to 500x your stake which offers payouts up to £25,000 for a huge return. The maximum payout to be won in this game, given you create a wild win and manage to access bonus features, is the 5,000 times your stake jackpot payout which can offer a whopping £250,000 which is a huge payout to win from such a smaller betting slot. 
Bonus Rounds
Ancient Egypt Classic is fairly simple, straight to the point and very easy to play. Naturally, this game keeps it simple with one bonus feature available - although it definitely is a rewarding one. This is the Free Spins Bonus Round, which is activated through the golden scarab beetle which is the wild of this game. This symbol will trigger this feature after paying out a win of up to 200 times your stake, which is a very generous win. The feature commenced and you will receive 10 free spins to enjoy, although there are plenty more on offer giving you keep those golden scarab beetle symbols coming. This feature can include expanding Wilds throughout the game, although this can be hard to find - this is where the huge jackpot of 5,000x your stake is found which is easily the most appealing win of the slot as it offers £250,000 from a £50 stake.
About the Developers
Ancient Egypt Classic is developed by Pragmatic Play, who are the developers behind many of the biggest and best online slots here at UK Online Slots casino. These developers tend to keep it simple, but do surprise in some of their games through more advanced and complex features.
Similar Slots
If you loved this ancient Egyptian themed game and want to explore more of this theme, try Book Of Good Symbol Choice for more Egyptian themed fun.