Ancient Egypt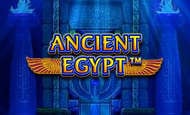 Register Here - View Promotions - UK Online Slots
Ancient Egypt by Pragmatic Play for UK Online Slots
Pragmatic's Ancient Egypt is a classic UK online slot with a 5 reel Egyptian themed design, offering a 96.43% return to player rate and a betway pattern which covers 10 ways to win in total. Bonus features of this online slot include a Free Spins Bonus Feature and a Prize Pick Bonus Round. Play over 700 UK Online Slots here at UKOnlineSlots.com.
Overview
We all love an ancient Egyptian themed online slot at this online casino, as they are one of the most popular themed slots created by many developers - now you can try Pragmatic Play's version of this long loved theme. Ancient Egypt is one of the original Egyptian themed online slots first created, and is certainly a contender for one of the strongest due to its variance, design and bonus features all confined. This online slot boasts a medium to high variance, already starting off on an advantage over all other games of this theme. The RTP rate is set to an above average number of 96.43%, making it more likely to give a payout than other slots with a lower rating.
This borders the online slot onto high variance, which is a very appealing aspect in itself. However, we cannot have everything as this online slot only offers just 10 paylines in total. This is slightly disappointing, as it is below the usual format for betways at this online casino, although this does not affect the already high variance rating of this slot. Overall, the variance of this game is particularly strong, despite the limitations set by the payline pattern, there is still a fair chance of winning.
The name of Ancient Egypt is pretty transparent as this online slot is based on an Egyptian theme, complete with a pyramid backdrop and themed symbols such as special golden scarab beetles. This game is fairly simple and straightforward, making it appealing to beginner players as well as all other player abilities at this online casino. There are some brilliant visuals on offer here, including a HD symbol of Cleopatra designed by Pragmatic Play. You can enjoy this slot however you please due to compatibility across mobiles, desktop devices and even tablets at this online slots casino.
Payouts and Symbols
Ancient Egypt offers a small betting range, which welcomes any stake between the range of £0.10 and £50. This design keeps all bets lower in volume, which means the overall slot will appeal to players of a lower betting style. This range can be seen as restricting, as the maximum limit is fairly low in comparison to many other online slots - this is likely to defer certain players from enjoying this slot due to limitations of their betting style, but should not be an issue for most of the common stakes. Overall, it is clear that this slot will suit only those who prefer the smaller volume bets, although don't be fooled, this slot can take these smaller stakes and turn them into big money. 
Ancient Egypt may have a relatively low betting limit, but there is still some higher volume payouts available - this actually gives the slot a huge advantage as players are able to play it safe with smaller stakes but still access some high payouts, which can be rare across all online slots. You can win up to 5,000 times your stake in this game which can also equal to £25,000 - this is a huge win from a stake as little as £50 per spin, which is easily enough to attract any player. Even the more basic payouts which are won through simple paylines or symbols can offer 100 and 500 times your stake, both of which can also turn smaller stakes of £50 into reasonably high payouts at this online casino. Other lower payouts are found through paylines of card royals, with 10x and 2x your stake up for grabs. There are no bonus multipliers on offer in this game, meaning every payout is exactly what you get and there are no secret, higher payouts available. Every payout is formed from your original stake through multipliers, which will award the higher betters with better payouts. To form a payout, you need a payline of 3-5 matching symbols across one of the 10 betways.
Bonus Rounds
In Ancient Egypt, you have far more than the simple main reel and there is far more on offer than basic symbol payouts. The bonus features are easily the most fun and appealing area of this entire slot, and there are a few variations available for you to explore. The main bonus of this online slot is the Bonus Round, which offers access to prizes of free spins and multiplier payouts. For access to this bonus round, make sure to look out for the important golden scarab beetle scatter symbol, which will not only offer a payout up to 50x your stake, will also grant access to this feature. In the feature, you can win up to 500 times your stake as a win, with other prizes available such as 1x and 100x your stake. There will also be a Free Spins Bonus Round available to gather all of your free games to try again at payouts up to 5,000x your stake.  You will receive 10 free spins at first, which is a fair number of tries at another jackpot win without adding more stake. 
About the Developers
Ancient Egypt is developed and designed by Pragmatic Play, complete with some stunning golden visuals. These developers enjoy a common theme, and many of their slots are strong competitors as the best of their kind - especially if you like bonus features and simplified reels.
Similar Slots
For similar games to play, try Rise of Egypt for another variation of the popular ancient Egyptian theme, here at UK Online Slots.