Agent Valkyrie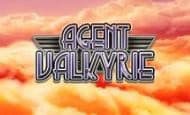 Register Here - View Promotions - UK Online Slots
Agent Valkyrie by 2 By 2 Gaming for UK Online Slots
2 By 2 Gaming's Agent Valkyrie is a medium variance UK Online Slots with a 96.06% return to player rate, offering a fixed payline pattern of 25 ways to win and a design of 5 reels and 3 rows. The slot consists of special bonus features which include three wild modifier features in the Base Game, with a Free Spins Bonus Round and some high payouts also available. Here at UKOnlineSlots.com, you can play Agent Valkyrie whilst with over 700 of the latest online slots to choose from!
Overview
Agent Valkyrie is based on a female agent character whose job it is to capture criminals and be heroic, which you will see in this game via the bonus rounds and symbol animations which show the character doing these things. This game consists of 5 reels and 3 rows, featuring some excellent graphics by 2 By 2 Gaming developers. This slot is a medium variance game overall, with a standard 96.96% RTP rating which details the fairness of winning in this online slot, offering a standard rate of volatility to compete well with other games at this online slots casino. The payline pattern of this game consists of 25 ways to win, which is the usual design used by all games of this size, which also works with the Win Both Ways design which offers various directions for payline and adjacent symbols to go for a better chance of making those symbols match for payouts, jackpots and bonus prizes in this game. 
Agent Valkyrie is designed for a very specific style of player, with a betting range of £0.25 to £25 per spin. This allows players to place only stakes lower than £25, which is a lower value stake by all online slots standards. This design is pretty restricting and does not offer much freedom for players to use other betting strategies, as their decision of bet is basically made for them with this narrow betting range. If you are wanting to place between this range, this game makes for a profitable one with higher multipliers that can take these smaller volume stakes and turn them into fairly high payouts in this game. The betting range of this game is much lower than other online slots, so if you are wanting to place higher stakes you may be better exploring other games as there are some slots with some very high betting limits. 
Payouts and Symbols
Agent Valkyrie is designed to be very interactive, as it is complete with a storyline theme based on a female agent called Valkyrie, who solves crimes and captures criminals. You will see this theme through the various themed symbols, a HD reel background of a city and various themed bonus rounds which include animated visuals of Valkyrie herself capturing criminals in the game. This slot offers a range of symbols to create the reel, which includes A to 10 royals, an aviator's scarf, criminal characters and a map - these are designed to create an action style reel which relates to the hectic life of the agent. The jackpot payout of the game is made through a payline of the criminal character wild symbols as they can offer 1,000 times your stake which can boost your smaller bet of £25 up to a potential win of £25,000 which is a huge return from this smaller bet.
There are various bonus symbols and prizes on offer in this game, which are designed to make wild wins easier. If you are looking for multipliers, this game does not have any available which does mean there is a maximum win of £25,000 or 1,000 times your stake in this game with nothing higher available. The payouts of this game are made through the original stakes, which will value and benefit the higher stakes. As there is no real option to bet high in this game and the basic payouts are of normal value, the best strategy to take in this game is to play with higher stakes and hope for the jackpot win as these payouts are much higher than the basic symbol paylines of 10 to 20 times your stake which will make little difference to a small bet. 
Bonus Rounds
Agent Valkyrie has some special bonus features on offer, which are designed to enhance your likelihood of winning a higher payout - this really helps you out and offers extra ways to win which are not available in the main reel. Firstly, there is a Base Game which includes three different wild features - this includes a Wilds Reel Feature which turns reels 1 and 2 completely wild, a Flying Wilds Feature which adds random Wilds anywhere on your reel and a Capture Criminals Feature which will turn criminal symbols wild, lock then into position and give players respins to try their luck at that jackpot payout of 1,000x your stake. There is also a Free Spins Bonus Feature, triggered through by 3 to 5 scatter symbols with a payout of 1-10 times your stake and a gift of 7 to 25 free spins depending on how Many scatter symbols created the payline. These bonus features are fairly unique, and come with some fun animated visuals of Valkyrie to complete the story of the theme.
About the Developers
Agent Valkyrie is developed by 2 By 2 Gaming, high quality slot developers who almost always offer strong bonus features for players to enjoy in their many themed slots. If you enjoy story themed games and a thrilling theme, these developers have produced many popular online slots which you are likely to enjoy.
Similar Slots
For similar games to this slot, try Agent Jane Blonde which is very similar in theme, design and bonus features with a higher betting range.
nge.