A Visit From St Nick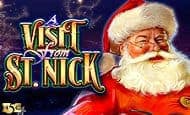 Register Here - View Promotions - UK Online Slots
A Visit From St Nick by High 5 Games for UK Online Slots
High 5 Games' A Visit From St Nick is a holiday themed UK Online Slots with a festive 5 reel and 3 row format, complete with medium variance and a strong return to player rating of 96%, offering a spectacular fixed payline pattern which includes 243 ways to win across the game. This online slot is very simple in bonus features, offering very limited bonus additions but including special multipliers to generate high wins. Here at UKOnlineSlots.com, you can play A Visit From St Nick or one of 750+ other games, and we will give you 500 free spins to use on your first deposit as a new player, as a Welcome Offer and to complete fun tasks to unlock Trophies. 
Overview
A Visit From St Nick is a very Christmassy online slot, developed by High 5 Games with a very simple design and limited bonus features. This slot is ideal for all player abilities due to the basic format and lack of complex bonus rounds. If you are seeking a festive slot to get you in the Christmas spirit, with an easy format and an extremely high number of ways to win, then look no further. This festive slot is known for a strong variance and likelihood of winning, with the use of multipliers to create higher jackpot prizes. This game is one of the more simplified Slot Games to play, as it does not include any complicated design or bonus features, just straightforward payline focused slot fun. 
One thing you can not argue about A Visit From St Nick is the strong variance, with a good payline pattern and variance rating combined to give players a nice chance of winning a payout through this festive themed slot. Firstly, the RTP rating is pretty fair at around 96%, the average rate for all games at this online slots casino. Secondly, the payline pattern of this game is very strong, offering a great number of 243 ways to win which  are spread across a small game of 5 reels - this uses the Win Both Ways game engine and also offers unique paylines to give players as many chances as possible to match those symbols, which is the aim of this game after all. There are no bonus symbols or features in this slot which can increase this variance or help in making wins, although these are not missed when the overall betway pattern and variance is this good.
A Visit From St Nick is designed for beginners, and anyone looking to place as little of a stake as possible. The betting range of this slot is extremely narrow and limited, so in order to play this game you just be prepared to bet small. The minimum stake of this slot is £0.01, making this game perfect for anyone looking to place as little bet as possible, as you will not find a slot with a lower minimum stake requirement than this. You can only bet up to a maximum of £1 in this slot, which is not very high at all and does place a restriction on players to abide by this limited betting range. That being said, although the bets are forced to be lower in this game, you can still win some fairly high payouts from this strategy in this Christmas themed slot.
Payouts and Symbols
A Visit From St Nick is very simple - with no bonus features to distract you, all you need to focus on is making paylines of 3-5 of the same symbol across a betway. With 243 ways to do this, this should not be too hard to do and payouts should be fairly easy to find. The value of the payout will vary from symbol to symbol, and if you make use of the maximum £1 bet limit, expect higher returns in this game. The jackpot available to win in this Christmassy slot is 2,300 times your stake - this can create up to £2,300 in this slot from the very small stakes allowed in this game, which is a huge win which all players are sure to be aiming for. Of course, not all payouts are of this high value and you will find the likes of 1x and 20x your stake in this slot too - in order to win such higher returns, your go-to symbol is the wild symbol in this slot, which is St Nicholas himself. In this game, there are also multipliers which create the one and only bonus feature of this slot - these can treble or double your payouts with the attached 3x and 2x symbols to any of the symbols on your reel. If you make a winning payline with wild symbols with multipliers attached, this is where the real money of this slot is made. 
Bonus Rounds
A Visit From St Nick has no free spins, bonus games or complex bonus features available to activate. This slot still does make use of wild and scatter symbols, but these are only to create higher jackpot payouts with, which can be up to 2,300x your stake in this game. The one bonus feature used in this Christmassy game is the use of multipliers, which can include 2x and 3x. These can be attached to any of the symbols at random, and will double or treble your payout made if you create a winning payline using the symbol in which the multiplier is attached to. There may be no bonus rounds available in this game, but there is a chance to win big money - which is why so many players opt for playing this festive game.
About the Developers
A Visit From St Nick is developed by High 5 Games, known for their simple design style and use of strong payouts.
Similar Slots
If you loved this Christmas themed slot and want to continue to get into the festive spirit, we recommend trying Book Of Christmas Online Slot for more festive fun at UK Online Slots casino.