7 Lucky Dwarfs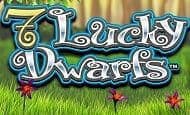 Register Here - View Promotions - UK Online Slots
7 Lucky Dwarfs by Leander Games for UK Online Slots
7 Lucky Dwarfs is a medium to high variance UK Online Slots by Leander Games, which boasts an impressively high return to player rate of 96.94% at this online slots casino, as well as 20 paylines across a fixed pattern and a design of 5 fairytale themed reels. The bonus features are varied and offer a Goodland Casino Free Spins Feature, a Dig, Dig In Our Mines Bonus Round and progressive multipliers up to 7x your win. Play 7 Lucky Dwarfs and over 700 of the most modern online slots here at UKOnlineSlots.com.
Overview
If there is one thing that 7 Dwarfs is doing right, it is the high variance which this online slot offers - this game exceeds all expectations with the RTP and offers sufficient ways of winning, making it one of the stronger games developed by Leander Games. This game includes plenty of bonus features and higher payouts than usual, as well as a fun theme based on the fairytale Snow White and the Seven Dwarfs, which all combine to create a strong online slot in more ways than one.
This game boasts a huge RTP rate of 96.94%, which offers a high variance to work with at this online casino. This higher variance stands out from other online slots, even games by the same developers, as it features a higher volatility than most online slots. The fixed payline pattern of this game features up to 20 ways to win, which covers more than enough variations of symbols to land which will award you with a payout or any of the many bonus rewards offered in this game.
7 Dwarfs is a flexible online slot which can be played by virtually anyone at this online slots casino, due to the betting range which is designed to include all betting styles. You can place bets as low as £0.20 to play it safe and fun with this game, or you can make use of the maximum stake limit of £100 per spin to access the maximised payours, and explore everything in between depending on your own betting style. This slot features the usual betting range and limits set by the majority of games at this online casino, which ensures it accommodates everyone who wishes to play this game and enjoy the many bonus rounds offered.
Payouts and Symbols
In Lucky 7 Dwarfs, there are some superb payouts up for grabs which vary from as little as 1x your stake all the way up to 2,000x your stake - and everything in between! This online slot offers a payout for every unique symbol, with paylines if 5 symbols offering much higher returns than the smaller 3 symbol paylines. Payouts which are paid to players who have used larger bets are also much more appealing, due to the multiplier system in place - which means if you are a player who prefers to play with higher stakes per each spin, you're in luck.
For example, if you play with the maximum stake in this slot you can win up to £200,000 whereas if you keep it safe with lower stakes, the maximum payout is just £400 - the payouts are exactly what you make of this game. The jackpot is a nice 2,000x your stake which includes a maximum payline of 5 wild symbols, which can offer some higher wins. The other payouts include 500x your stake which is the main jackpot, made much larger through the multipliers which vary from 2x and 7x your payout for enhanced wins at this online casino.
Bonus Rounds
7 Lucky Dwarfs is not your average online slot, as it offers plenty of bonus features and exciting twists and turns to keep things interesting - if you are a fan of busy collections of bonus features, then you need to give this game a go. One of the main bonus rounds of this slot is the Dig, Dig in Our Mines Bonus Round which is themed on the fairytale storyline of this slot and also includes some fun animations to make it even more engaging. This feature has the chance to win up to 500x your stake, and basically works as an additional chance for players to win payouts which are higher than what is available in the main game. This feature is essentially a Cash Trail feature in this slot and can commence through the bonus symbols of this slot - you spin the reel until wins are made, but do not get too comfortable as this slot feature can close at any time when the X appears on your screen; so make the most of it while you can.
The other bonus feature of this game is the Free Spins Feature which offers exactly what it says on the tin, free spins. This feature offers 5 free spins at first to give you a little helping hand, with multipliers also suddenly activated which can be anything from 2x to 7x your win to really boost up your payouts in this feature. Overall, the bonuses of this slot are fairly unique as they are based on this Snow White and the Seven Dwarfs theme, making it more original - there are also some brilliant extra features available such as huge multipliers up to 7x, extra wild modifiers, and higher payouts which boost the normal 500x jackpot up to a massive 2,000x your stake jackpot.
About the Developers
7 Lucky Dwarfs is developed by Leander Games, who tend to offer very original UK online slots which always offer at least one strong bonus feature and higher payout, making many of their games very popular at this online casino.
Similar Slots
For similar online slots, try Twinkle for more fairytale themed slot fun, also available to play here at UK Online Slots casino!