Wheel of Wishes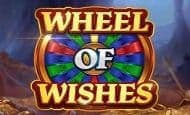 Register Here - View Promotions - UK Online Slots
Wheel of Wishes by Microgaming for UK Online Slots
 Wheel Of Wishes is a medium variance UK online slot developed by Microgaming, offering a 94.34% return to player rate and 10 ways to win across a fixed payline pattern shown on a 5 reel game. This online slot has various bonus rounds to try, including a Power Mode Bonus Feature, Progessive Jackpot Bonus Round, Power Spin Feature and more. Play Wheel Of Wishes and over 700 of the latest UK Online Slots at UKOnlineSlots.com.
Overview
Wheel Of Wishes is not the strongest online slot when it comes to variance - there are a few factors which lets this otherwise strong slot down. Variance is very important in all games, as it describes the likelihood of winning a payout or accessing bonus features in the slot. This game has a medium variance with a 94.34% return to player rate, which is lower than average volatility at this online casino. This means that this online slot is less likely to hand out a payout than other games with a higher rating, which does give this slot less of an appeal in comparison to other games.
The payline pattern of this game is also fairly low, with just 10 ways to win available which restricts certain directions and betways which are normally found across other slots of this style and size. With 5 reels, this payline pattern could be much better and there certainly is room for improvement in the variance of this game - however, there is a reason behind this design. These developers have created a slightly more challenging slot in terms of variance and betways, but also added extra high payouts to offer an extra reward when you reach the wins. This can be commonly found in many low to medium variance slots, designed to make payouts harder to reach but also worthwhile when you do.
Wheel Of Wishes is a fairly standard 5 reel slot, complete with the usual Microgaming advanced HD images and compatibility across all devices from mobile to desktop. The theme of this slot is based around the concept of the bonus wheel, which creates a fun game show style to this slot. The symbols of this slot are random and include genie lamps, bottles and other treasures to create an aesthetically pleasing reel.
Payouts and Symbols
Wheel Of Wishes is only designed for any player who wants to play with smaller, risk free stakes. If you are someone who prefers to stay below a certain limit and steer clear of higher volume stakes, this slot is perfect for you. This game offers a small betting range of £0.25 and £25, which is very specific to a certain player style. This will certainly prevent a selection of players from enjoying this game, as this design is quite exclusive of lots of betting styles. It seems as though this design is there to balance out the payouts of this slot - with higher volume multipliers available, there is no need for extra high bets to create big payouts, which is only a good thing.
Wheel Of Wishes is known for some exceptional payouts, some of which are sure to shock you and change your life. This game is known for some rarer, extreme payouts up to £2 million which are usually out of reach for all online slots - of course these payouts are not handed out all the time, but they are still there to be won which adds a sense of excitement to this game. Not all payouts are of this volume, as in order to win this you need to fill a reel entirely full of the wild symbol whilst some multipliers are activated.
The jackpot payout of the game is 800x your stake, for a payline of 5 wild symbols - this can offer a payout of up to £20,000 which is a great win from a £25 stake at this online casino. The usual payout available in this game can consist of anything from 10x to 500x your stake, with some above average payouts available across the game. These payouts make the lower variance worth it, by offering the challenge of winning some excellent wins. This game also features a selection of fixed jackpots including £2 million, £50,000, £1,000 and £100 - these are fixed sims which can be won from any stake, which is an incredible and rare form of payout at this online casino.
Bonus Rounds
Wheel Of Wishes offers some exciting and unique bonus features, which add something extra to this slot - they are not your usual bonus rounds or features, and offer rare rewards such as fixed jackpots and more. Firstly, the progressive jackpot bonus feature is easily the most appealing as it is where the payout of £2 million is up for grabs. To access this extra game, you need to find the Bonus Wheel symbol across your reel. The wheel will spin before your eyes on a different screen, where you will either win the Mini, Minor, Major and Wow Jackpots which vary from £10 to the huge £2 million payout.
You can actually buy your access to this rare feature in the Power Mode feature, which is excellent as this offers the chance to buy into the feature for £2 for the chance to win up to £2 million, which leaves nothing to chance when trying to activate this feature. The Power Spin feature is another bonus addition to this game, which introduces colossal symbols up to 3x3 of your reel and the use of multipliers 3x and 5x which can bring higher payouts up to 1,500x your stake in this exclusive bonus round. 
About the Developers
Wheel Of Wishes is developed by Microgaming, who have also produced similar high quality UK online slots.
Similar Slots
Similar Slots such as Mega Moolah which has a similar style and also offers excellent payouts, available to play at UK Online Slots casino.