Beehive Bedlam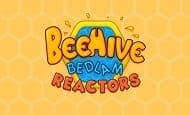 Register Here - View Promotions - UK Online Slots
Beehive Bedlam by Core Gaming for UK Online Slots
Core Gaming's Beehive Bedlam Reactors is a unique 7 reel UK Online Slots with a varying return to player rate of 92.84 to 94.37%, featuring a medium variance with a cascading reels game engine. This slot includes some special bonus features such as the Free Falls Feature, a Honey Jar Bonus Feature and a progressive jackpots feature. Play Beehive Bedlam Reactors here at UKOnlimeSlots.com or choose from over 700 online slots to play. 
Overview
Beehive Bedlam Reactors certainly is not your typical online slot, featuring a very interesting game engine and overall design - this slot is truly unique and very fun to play! The game consists of 7 reels in total, which is laid out to be very different to appear as a beehive design. This online slot has a unique varying variance rating which includes two RTP rates of 92.84% to 94.37% which increases through the varying bonus rounds of this game to boost your chance of winning.
Both of these RTP ratings are on the lower side at this online slots casino, although this is merely due to the design of this game and there are plenty of special additions which can increase the likelihood of winning in this slot. There is no set payline pattern on this game, instead it uses a cascading reels feature and a cluster payline pattern. You need to collect groups of symbols in clusters of 4 or more to win a payout, which will then be removed to cause a cascading effect which can also trigger consecutive wins if you are extra lucky. 
Beehive Bedlam Reactors features a larger betting strategy to allow all players to enjoy this unique slot game, allowing stakes above £0.10 and below £500 per spin to be played. This betting range not only offers one of the cheapest slots it play, it also gives players plenty of freedom to place some high stakes up to a rare limit of £500. This betting range includes every betting strategy possible, which is sure to make the game more enjoyable as players have the chance to personalise their game. 
Payouts and Symbols
Beehive Bedlam Reactors is designed as a new, updated version of Beehive Bedlam which presents the same beehive style reel which is complete with 7 reels designed as a honeycomb visual. The game is very unique in comparison to other games in terms of payline game engine, complete with a theme of nature and bees. This slot consists of some fairly simple symbols such as various coloured flowers as the lower value payouts and the bonus symbols such as a queen bee. The theme is very consistent throughout, and all of the graphics are presented as HD cartoons with plenty of colour. The high paying symbols of this game include the Big Boss and Queen Bee symbols which offer jackpot wins and access to the bonus features of the game. The jackpot of this slot is progressive, meaning there are some high value wins to be found in this game, especially with a higher stake used.
To make a winning payout in this game, you are not working with the usual fixed betways found in all games. Instead, you have to land matching symbols in clusters of 5 to 15 symbols. The payout will increase for every symbol you place, meaning clusters of 15 symbols will pay higher than clusters of 5 symbols. Each symbol also has its own value, meaning the bonus Queen Bee symbol will payout more than the standard flower symbols of the game. Slots which feature progressive jackpots tend to offer higher wins, which can reach higher than £250,000 returns in this game. The only catch is that you need to access the jackpot feature to win this progressive jackpot, as all other standard payouts in this game are not the highest. If you manage to access the progressive jackpot feature, you are in for a real treat.
Bonus Rounds
Beehive Bedlam Reactors is a unique design which uses cluster payline patterns and cascading reels, which is essentially a bonus feature in itself as it can encourage consecutive wins through symbol removals. This game design is very original and actually increases your chances of winning multiplier payouts in a row by removing symbols and moving your reel around after every win - this also works well with the progressive jackpot feature of this game as both rely on making consecutive patterns of winning. The jackpot feature in this game is activated when you spell our JACKPOT through the labelled bonus symbols of the slot. You then access higher payouts to win. Another feature of this game is the Free Falls Feature which hands out free spins, activated from paylines of 3-6 of the Free Fall symbols. You will receive up to 15 free spins in one go, which can be very helpful in this game in particular. There is also a Honey Jar Bonus Features which works alongside the main game, featuring a honey metre which fills up when you collect the honey pot symbols. This is an individual mini game where players play as a bee which avoids obstacles - if you reach the end you will win multiplier payouts which can offer high jackpot prizes.
About the Developers
Beehive Bedlam Reactors is developed by Core Gaming and features one of their most unique, and potentially well known online slots at this online casino. These developers tend to step outside of the box in their slot design, which includes quirky design features and themes.
Similar Slots
For similar games to this slot, try Force of Nature by Leander Games which is another animal and nature themed slot with free spins bonus features and special symbols, also available across mobile and desktop devices here at UK Online Slots casino.