20p Roulette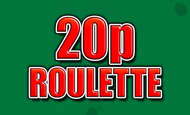 Register Here - View Promotions - UK Online Slots
20p Roulette by NYX Gaming for UK Online Slots
NYX's 20P Roulette is a virtual slot of European Roulette complete with spinning wheel and authentic visuals. This UK online slot boasts a nice Return to Player Rating of 97.3%, as a high variance game at this online slots casino. This game is not full of complex bonus features, and instead offers payouts up to £10,000. Play 20P Roulette and over 700 UK Online Slots at UKOnlineSlots.com!
Overview
We have all heard oe European Roulette, and Nyx Gaming have made it entirely possible to now play this beloved casino game from the comfort of your own home. This online slot is a virtual version of this popular casino favourite, which includes cutting edge design features and excellent visuals for added authenticity. This slot is compatible with most devices through HTML5 and JavaScript, which makes this game accessible across mobiles as well as desktop devices. This game boasts a high variance rating with 97.3% return to player, meaning there is a much higher chance of winning a payout in this online slot than there is in other, lower variance slots.
It goes without saying that high variance games are the most appealing, and this online slot offers a great chance of winning in terms of volatility to stand out from the crowd of games at this online slots casino. As you may guess from the name of this popular online slot, 20P Roulette can be played from a minimum stake of £0.20 per spin - this is exceptionally low for a gameplay of this particular casino game, which is a unique feature that has even made it to the title of this slot.
20P Roulette is designed to be an authentic version of European Roulette, in virtual form for the players to enjoy as much authenticity as possible from the comfort of their own home. The design of this online slot involves innovative high quality images of a realistic roulette board as well as a green felt betting board - these all combine to make the virtual game as real as possible. The imagery and colours of this online slot are designed to appear realistic, which NYX have done a great job at achieving. The entire screen of this online slot is designed to look like a real-life casino, so players can enjoy European Roulette from the comfort of their own home. NYX have also helped out with this in making this game HTML5 compatible to be played on the move on mobile and tablet devices, as well as enjoyed at home on a desktop format.
Payouts and Symbols
What makes this online slot so strong is that you can bet with such small stakes, but payouts up to £10,000 are available - this is a tremendous win for all and is sure to appeal to many players at this online casino. To play this game, you simply place you bets on the virtual, HD betting format - this includes the selection of odds, evens, colours and exact numbers with varying odds for each selection. The more precise you bet, the higher the returns which is due to the risk and decreased likelihood for precise bets. For example, if you bet the exact number on this game and win, you will win a larger payout than if you placed a bet on a certain colour.
This online slot may require more skill and thought than your average online slot, as it is a game of strategy as opposed to the usual spinning reel design. This online slot is very fun and interactive to play, designed to offer an authentic casino experience from the comfort of your own home. As in all casino slots, you bet with a stake which will influence your payout. For example, if you bet with £100 on your choice, you will win much more than from a stake of £0.10 - this is a general rule for all online slots and is more than fair. This particular slot of 20P Roulette welcomes a wide range of players with an open betting range, meaning you can join in the fun with minimal risk from a stake as low as £0.20 or play with much bigger stakes for higher returns.
Bonus Rounds
20P Roulette does not come with any special bonus rounds or features, as it is only natural for a European Roulette slot to be very basic and simple. Do not expect any free spins or respins in this game, as there are none available - this online slot is based entirely on the European Roulette game and will appeal most to players looking for a straightforward, virtual version of this game. That being said, this online slot does come with a fun Neighbour Bet Feature - although this does not do much, it does give the chance to broaden your bet for an increased chance of hitting the mark. The Neighbour Bet Feature works to cover adjacent selections alongside your original choice, which means you have a higher chance of winning. For example, if you opt in for the Neighbour Bet feature and select a certain number, the numbers beside this selection will also be involved in the stake for an increased chance of winning by up to 3x.
About the Developers
20P Roulette is developed by NYX Gaming, as something slightly different to what they normally offer in their online slots. NYX Gaming do tend to include elements of real casinos including making their reels appear as authentic as possible, as we have seen in this UK online slot.
Similar Slots
If you enjoy this virtual style of casino game, try out Live Roulette as this is very similar. For more, slightly different games by NYX Gaming, give 1 Can 2 Can a try here at UK Online Slots.