The Incredible Balloon Machine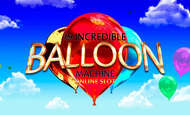 Register Here - View Promotions - UK Online Slots
The Incredible Balloon Machine by Microgaming for UK Online Slots
 Microgaming's The Incredible Balloon Machine is a different online slot with no reels or rows, with a unique spin feature you won't see elsewhere. This UK online slot includes high volatility with a 96.75% Return to Player rating, multiplier boosts up to 10x, a Pick Me bonus round and a Wincrease Feature. Play this game and over 700 other UK Online Slots. 
Overview
 The Incredible Balloon Machine's strongest point has to be the variance of this game, as it offers a huge 96.75% RTP - this exceed all other variance ratings and places this online slot as a high variance game, meaning there is a much higher chance than winning at this slot than there is on other, lower variance games. This high variance is necessary and even more important in this particular game as it has no paylines or betways involved. A very unusual design of online slot, this game has no fixed ways to win as there are no reels shown.
No reels or betways can seem confusing, but this game is very straightforward - there is a balloon to be inflated when you hold down a button. As the balloon inflates, there will be a cash multiplier payout increasing with the balloon inflation which will be awarded whenever the balloon bursts. With no paylines to work with it can seem like this game does not hand out payouts often, however we still have the impressive RTP rate and high variance to give us confidence. As in all online slots with high variance, this game offers a small and limited betting range.
You can play from a suitable minimum stake of £0.20 to access this game, however considering all payouts made in this online slot are multiplied from your original stake, there is not much money to be won with a bet of this size. You have up to £40 per spin worth of free room to choose your own stake, which is not much freedom and does place a limitation on higher stakes and certain player strategies. Overall, if you are looking to try out this very new Wincrease style of slot, this game is a great one to try as the theme is strong and there are some decent payouts available.
When you first open up The Incredible Balloon Machine to play, you may be confused as the layout appears to be missing any reels. The screen shows a blue, cloudy sky with a single balloon in the centre of the screen - this is your reel and holds the entire game. Once you have gotten your head around this style, it is very simple to play, although overwhelming at first sight. The theme of this online slot is a hot air balloon taking flight, complete with an animated reel and some beautiful graphics designed by Microgaming. This UK online slot is also ready to play across mobile, tablet and desktop devices so everyone can try this unique style of slot. 
Payouts and Symbols
 The Incredible Balloon Machine has a nice jackpot of 3,082 times your stake - this is a brilliant payout which can offer up to £123,280 for players who have played with the maximum stake. It is payouts like these that have the power to turn smaller bets into huge money, which is a fantastic feature to any game and really gives this online slot some appeal. The secret to these higher jackpot prizes is in the multipliers, which can be available throughout this online slot to increase any payout made. Multipliers can vary from 2x, 3x, 4x, 5x, 6x and offer up to 7x your win - each of these are sure to help out in some way, but the one to aim for is definitely the 7x multiplier to increase your payout seven times for a huge, new payout.
These multipliers form part of the Wincrease system of this slot, which is designed to progress payouts throughout the game to offer higher payouts each level. This is a brand new, unique game engine which certainly works well for this slot in creating higher jackpots and offering a fun, different gameplay. In this online slot, there are no symbols in the entire game which may be slightly confusing at first, but when you realise there are no symbols to memorise, this game can be one of the simplest to play at this online casino.  
Bonus Rounds
 The Incredible Balloon Machine features few bonus rounds, which add to the game and offer extra chances at winning at this online casino. The main bonus feature of this online slot is the entire game engine, featuring the new Wincrease slot style which offers progressive multiplier payouts instead of fixed paylines and payouts. This game style can be very rewarding, and makes for a nice break from the usual basic slot format. It is through this game engine where payouts up to 3,082 times your stake are made available, with multipliers up to 7x your win also up for grabs in this online slot. Aside from these, there is also a Pick Me Bonus Round which offers free spins and multipliers, to give something extra alongside the main game. There are no significant bonus rounds in this game, as the main game is exciting enough in itself - too many bonus rounds and features would make this game too confusing, so the design is just right.
About the Developers
 If you want to try more UK online slots by Microgaming, with a similar unique style to The Incredible Balloon Machine, then try Big Top which features a very similar theme that is slightly more traditional to play.
Similar Slots
Microgaming offer a huge range of online slots and this game just shows exactly how they can stand out from the crowd - no two Microgaming slots are the same.