Mysterious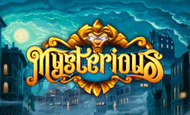 Register Here - View Promotions - UK Online Slots
Mysterious by Pragmatic Play for UK Online Slots
Pragmatic Play's Mysterious is a unique 4 reel by 4 row design with a spooky ghost theme, complete with a nice return to player rating of 96.5% and unique betway pattern which can vary from 256 ways to win to a whopping 4,096 paylines! The bonus features of this creepy themed game include 3 Random Spin Features called the Lord, Lady and Baron Features, a Locking Multiplier Free Spins Feature and a Resurrecting Wilds Roaming Free Spins Feature. Play Mysterious and over 700 other UK Online Slots here at UKOnlineSlots.com.
Overview
Mysterious is based in a creepy mansion, with a theme of ghosts and ghouls. Set in a perceived traditional era with lord and lady ghosts, this game is a modern release which uses modern cartoon graphics to bring this theme to life for players. If you are a fan of spooky themes and engaging visuals, you will enjoy this game for its design. As well as this, this slot is known for handing our free spins and bonus features throughout the game. With 5x3 reels, this slot is simple to understand and follow - if you can get past the spooky ghost characters which randomly float around the screen through the in-game modifiers.
This slot is medium in terms of variance, yet offers a highly volatile RTP rating of 96.5% which means that there is an above average amount of payouts handed out for every stake made, giving players confidence that winning is possible in this slot. The online slot also comes with varying betway patterns, which can bring some pretty impressive numbers of ways to win. Beginning at an already strong number of 256 paylines, using the many bonus features offered in this slot you can access up to 4,096 ways to win for a very hectic betway pattern which makes is almost easy to win a payline in this game. This slot may be spooky in theme, but this high variance makes it a very appealing slot to any game - and the bonus features and payouts only make it stronger.
Mysterious has one of the most appealing betting ranges available at this online casino, which is a common inclusion for any Pragmatic Play online slot. The betting range begins at £0.10 and ends at £100 per spin, which offers a cheap minimum stake and a fairly high maximum bet. Although this may not be the highest maximum stake and other games offer much higher, this maximum limit is nicely designed as it allows for players to use increased betting strategies to access higher payouts. The betting range also allows room for players to keep it safe with very small stakes of £0.10, which is one of the cheapest stakes allowed at this online casino. With such a nice range, there are many potential betting strategies which can be used here, which does form a very flexible online slot to play.
Payouts and Symbols
Mysterious is set in an old fashioned mansion, filled with ghosts and spooky beings to create a creepy but also fairly fun design. There is nothing too scary about this slot, as all of the ghosts are in cartoon form which makes the game much more light hearted in comparison to other spooky slots.  The basic jackpot of this game is equal to 500x your stake, which is not the highest jackpot but can also create wins up to £50,000 which is a fairly high payout to win. Other payouts in this game can be boosted significantly, only via the bonus features, where multipliers including 12x your win can be activated to create all new, much higher payouts in the bonus rounds of this slot. The payouts available in this game are not bad, but the real payouts of this slot are made only possible through the multiplier boosts - so be sure to activate those whenever you get the chance.
Bonus Rounds
Mysterious is complete with multiple bonus rounds which are very exciting and rewarding - not only do they offer extra entertainment, they also provide new, higher payouts as well as an increased volatility. This game can begin with 256 ways to win, but you can see this increase up to 4,096 ways to win in the bonus rounds, which increases the likelihood of winning to offer a brilliant benefit to add to your game. There is also two Free Spins Bonus Features, which can both be activated via the scatter symbols and chosen out of the two options to bring two unique features to your game. The Locking Multiplier Free Spins Feature offers a series of free spins with locked multipliers of either 3x, 6x, 9x, or 12x in action to boost your winnings up to huge values.
The Resurrecting Roaming Wilds Feature fades away any wild on the reel before the free spins, which will then roam around the reel landing in various places in the hope of landing in a winning wild payline. There are also three randomly activated mini features in the main game: the Lord Feature adds a progressive multiplier of either 2x, 4x or 6x to your reel for increased payouts. The Lady Feature expands any wilds to the full reel and reveals mystery symbols for a higher chance of winning. The Baron Feature spreads out wild symbols to turn adjacent symbols into higher value wilds.
About the Developers
Mysterious is a creepy, themed online slot brought to you by Pragmatic Play. These developers specialise in simple 5 reel slots which are easy to play, full of fun bonus additions to make their games unique and full of fun.
Similar Slots
For similar UK online slots to Mysterious, enjoy Frank's Freak Spins here at UK Online Slots casino across compatible mobiles and all desktop devices, for another spooky online slot.