Greek Gods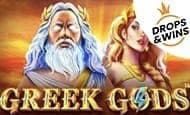 Register Here - View Promotions - UK Online Slots
Greek Gods by Pragmatic Play for UK Online Slots
Pragmatic Play's Greek Gods is an Ancient Greek themed UK online slot with medium to high variance from a 96.5% Return to Player Rate, offering a huge betway pattern with 243 ways to win across 5 reels and 4 rows. This exciting game features a Random Awards Feature, Wheel of Fortune Feature, Free Spins Bonus Round and some great payouts. You can play Greek Gods and over 700 of the best UK Online Slots here at UKOnlineSlots.com.
Overview
Greek Gods includes a medium to high variance, offering a pretty good chance of winning at this Ancient Greek themed game. If you are a fan of busy payline patterns, plenty of bonus rounds and some high payouts, this online slot is ideal for you - all with a high variance to offer a fair balance between winning with every stake. This game offers a higher than usual 96.5% RTP rate, meaning this has an increased likelihood of winning in comparison to slots with a lower rating.
With an above average variance, this game is one of the stronger slots of this theme - and there are many Ancient Greek themed online slots at this casino. Easily one of the most appealing aspects of this game, aside from the thrilling bonus features, has to be the payline pattern as it offers a nice 243 ways to win across the reel. This design covers various directions and reels, offering an increased chance of winning or accessing bonus rounds. This game features plenty of bonus features and symbols to access, meaning the more paylines the better!
Greek Gods includes an Ancient Greek theme, spread across 5 reels for a simple design. The symbols of this slot include your usual, traditional card royals as well as various themed icons such as Zeus, a greek goddess and many more. The design of this slot looks very regal, full of golden visuals and valuable looking symbols, which creates a nice aesthetic.
Payouts and Symbols
As far as betting ranges go, you cannot ask better than this. The betting range of Greek Gods welcomes a huge range of betting strategies and does its best at not restricting players from trying this game. As long as your stake is above £0.25 as a minimum limit and below the maximum of £125 per spin, you can enjoy this online slot. A wide betting range gives you freedom of choosing your original stake, with no restrictions in your way. The maximum stake limit of this game is actually higher than your average game, which also gives this slot an advantage over the many other slots of this theme. This online slot is suitable for all player strategies, making this game entirely flexible, as long as players enjoy a fast-paced style with plenty of bonus rounds, as this is exactly what is offered by this game.
Greek Gods does offer some brilliant payouts throughout the game, which is rare for such a high maximum stake limit - as many slots usually balance out their higher payouts with lower stake limits, the design of this slot is rare and definitely beneficial to players who intend to bet big in this slot. The jackpot win is a nice 1,458x your stake which can offer a huge return from the maximum stake. This payout also has the volume to turn stakes as low as £1 into a brilliant win, which is a rare outcome for a stake as low as this. This payout can be difficult to find, as you need as full reel of the Zeus greek god symbol, which is far more than the usual payline of 3-5 symbols and is therefore harder to achieve.
As well as this, you can win up to 3,000x your stake in the many bonus features of this slot - you will struggle to find payouts as high as this in the main game of this slot, as these are exclusive to the rare bonus features of this game. More reachable payouts include 6x your stake for a payline of 5 Zeus symbols, with payouts as low as 1x your stake to break even through the lower value payouts of the slot. As in all online slots, you get what you put into this game, meaning if you place lower bets, expect lower payouts and vice versa.
Bonus Rounds
One very appealing area of Greek Gods has to be the bonus features, with a good variation of rewards available. Throughout these features, you can expect free spins, wild wins and increased payouts. In fact, you can access an exclusive payout of 3,000 times your stake which is double the usual jackpot of 1,458x your stake which can be won in the main game, meaning the really high winnings are made only in the bonus features of this slot.
The Random Rewards Feature can be activated when a reel is fully stacked - at the beginning of the game, you will notice a random award at the top of each reel, which is awarded to you when the reel turns stacked. This can be hard to do, but can also add some benefits to your game mid gameplay. The random awards include a payout of 50x your stake, an instant trigger of the Wheel of Fortune feature or a trigger of the Free Spins Bonus Round. The Wheel of Fortune is where payouts up to 3,000x your stake can be won. The Free Spins Bonus Round is where free games are accessed, with up to 40 free spins available in quantities of 5 or 3 free spins given at a time.
About the Developers
Greek Gods is developed by Pragmatic Play, who have also formed exciting UK online slots. 
Similar Slots
similar themes including the likes of Hercules: Son of Zeus, which is very similar to this game in terms of design and bonus features.