Ave Caesar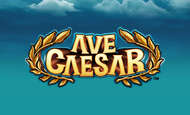 Register Here - View Promotions - UK Online Slots
Ave Caesar by Leander Games for UK Online Slots
Leander Games' Ave Caesar UK Online Slots has 5 reels and 3 Ancient Roman themed rows, featuring a 96% return to player rate and a fixed betway pattern of 20 paylines for medium variance at this online slots casino. Bonus features in this exciting game bring you 4 mini modifiers which can be randomly triggered at any time, a Druid Free Spins Feature, Glory of Rome Free Spins Feature, Roman Empire Bonus Round and a Caesar's Conquest Bonus Round. Play Ave Caesar and over 700 other popular online slots here at UKOnlineSlots.com. 
Overview
Ave Caesar offers a perfectly fair variance, meaning there is a decent chance of winning at this game and you are not playing an impossible online slot - variance should be one of the main things you consider before playing a game, so it is nice to know that this online slot offers an appealing volatility which is not too out of reach. In fact, this slot offers an RTP rate of 96%, which is perfectly within the range of medium variance to make this slot as fair as possible, with no payout too out of reach or hard to win. The payline pattern offered in this roman themed game is also fair, giving players 20 paylines to work with which remain in a fixed betway pattern throughout the slot. This payline pattern is the usual format for all games of this style, which also uses the Win Both Ways game design to keep making a payline or matching symbols fair and reachable. Unlike your traditional slots, this game features plenty of variations in how symbols can land to bring you a cash payout or access to a bonus feature - and there are plenty of features to explore in this slot!
Ave Caesar is known for some brilliant bonus features, wild features and in game modifiers which bring this ancient Roman themed slot alive and offer some brilliant payouts and rewards. One of the main attractions of this slot is the wild modifiers, where 4 randomly activated wild features are available to enhance your gameplay at any time through any spin, which is a great addition to keep this slot always entertaining. This includes the Hannibal's Heroes Feature which offers symbol swaps and random additions of wild symbols on your reel. The Gaul Feature is another modifier which swaps out basic symbols for matching symbols nearby to assist in making a winning payline. The Ave Caesar feature is randomly activated to help players in accessing one of the main bonus rounds at any time with a 1 in 4 chance. The Centurion Maximus Feature offers the addition of colossal symbols from 2x2 to 3x3 which also help you towards completing a payline or matching symbols for a payout or bonus feature access.
Ave Caesar is very flexible when it comes to player strategies, offering a betting range which does appeal to the most common stakes which players are likely to place. That being said, this game is not entirely welcoming of all betting strategies and will be most suited to anyone looking to keep their stakes low, at this online slots casino. The betting range available to explore in this game is £0.20 to £20 per spin, which does not exactly offer much freedom when choosing stakes. The limited range will allow players to keep their bets lower for decreased risk, which many players are likely to follow anyway - although this slot is certainly not going to appeal to any player looking to use the strategy of placing higher stakes. Do not assume that this range determines the value or payouts available here, as the progressive jackpot and available multiplier payouts may just surprise you and generate a huge return from these smaller bets at this online casino. 
Payouts and Symbols
Ave Caesar has many payouts and chances of winning across the game - whether in the main game or one or the special bonus features, there is a fairly high value payout to be won in this game. This is one of the many online slots at this casino which features a progressive jackpot, which everyone knows is the key to high payouts. With this in mind, progressive jackpots mean there is usually no limit on how much can be won, which offers the opportunity to win some pretty big wins. The more basic wins in the main game offer the likes of 50x your stake, which are higher multipliers which are needed when players are forced to play with smaller bets - although this can offer a payout of up to £1,000 from a £20 stake which is a great win which is not too hard to reach. Throughout this slot, every payout can be increased even further through the multipliers available such as 2x and 3x your win, which doubles or trebles your payouts for extra high returns!
Bonus Rounds
The main bonus features of this slot include a Caesar's Conquest Feature which is this slots version of a cash trail bonus round. There is also two Free Spins Bonus Rounds on offer, which can hand out anything between 10 and an unlimited supply of free spins throughout the game. There is also a strong Roman Empire bonus round which offers prize picks towards access to progressive jackpots and multiplier wins. All of the bonus rounds and modifiers which are available in this slot combine to make this Ancient Rome themed online slot a brilliant, engaging game to play at this online slots casino. 
About the Developers
Ave Caesar is developed by Leander Games, who are the experts also behind leading UK online slots.
Similar Slots
Similar slots such as Apollo God of Sun which is an Ancient Greek themed slot similar to this style of game, also available at UK Online Slots casino.